So Many Trump Scandals, So Little Media Space to Reveal Them, So Few Republican Senators Who Care
October 13, 2020
By Joe Rothstein
The no-drama Obama administration produced few events that could be categorized as corruption, or even as congressional investigation worthy. Benghazi. The Clinton emails. Think of any others? And even these were blown out of proportion to their importance by political heat seeking Republicans.
With Trump, each day's news cycle is a roller coaster of bizarre decisions, events, behavior. Stories that in normal times would draw the focus of the entire Washington press corps hardly make it to the front page or the nightly TV news. Illegality, morality, unconstitutionality, corruption, mismanagement—--Trump is so destructive on so many fronts that we are tempted to just look away, it's all so dispiriting and mentally exhausting.
But looking away would be the most destructive thing of all. We can't let this become a new normal. Here are just a few current samples of stories that are being under told but demand attention and consequences:
From Atlantic Magazine
A Pro-Trump Militant Group Has Recruited Thousands of Police, Soldiers, and Veterans. Who they are and what they might do on Election Day.
"Stewart Rhodes was living his vision of the future. On television, American cities were burning, while on the internet, rumors warned that antifa bands were coming to terrorize the suburbs. Rhodes was driving around South Texas, getting ready for them. He answered his phone. It was a Friday evening in June. Rhodes, 55, is a stocky man with a gray buzz cut, a wardrobe of tactical-casual attire, and a black eye patch. With him in his pickup were a pistol and a dusty black hat with the gold logo of the Oath Keepers, a militant group that has drawn in thousands of people from the military and law-enforcement communities.
"Rhodes had been talking about civil war since he founded the Oath Keepers, in 2009. But now more people were listening. And whereas Rhodes had once cast himself as a revolutionary in waiting, he now saw his role as defending the president. He had put out a call for his followers to protect the country against what he was calling an "insurrection."
https://www.theatlantic.com/magazine/archive/2020/11/right-wing-militias-civil-war/616473/?utm_source=The+Muck+Rack+Daily&utm_campaign=d20c8f1ff0-EMAIL_CAMPAIGN_2020_10_01_04_10&utm_medium=email&utm_term=0_af2b2023a3-d20c8f1ff0-19798469
Revealed: Trump campaign strategy to deter millions of Black Americans from voting in 2016
By Channel 4 News Investigations Team
Channel 4 News has exclusively obtained a vast cache of data used by Donald Trump's 2016 presidential campaign on almost 200 million American voters. It reveals that 3.5 million Black Americans were categorized by Donald Trump's campaign as 'Deterrence' – voters they wanted to stay home on election day.
https://www.channel4.com/news/revealed-trump-campaign-strategy-to-deter-millions-of-black-americans-from-voting-in-2016?utm_source=The+Muck+Rack+Daily&utm_campaign=846d872afe-EMAIL_CAMPAIGN_2020_09_29_04_08&utm_medium=email&utm_term=0_af2b2023a3-846d872afe-19798469
The Kushners' Freddie Mac Loan Wasn't Just Massive. It Came With Unusually Good Terms, Too.
ProPublica
Despite a history of under-performing properties, Kushner Companies received a near-record sum from a government-backed lender. Should it default, taxpayers could be forced to foot much of the bill.
The agency says politics played no role. After the news broke in May of last year that government-sponsored lending agency Freddie Mac had agreed to back $786 million in loans to the Kushner Companies, political opponents asked whether the family real estate firm formerly led by the president's son-in-law and top adviser, Jared Kushner, had received special treatment.
The loans helped Kushner Companies scoop up thousands of apartments in Maryland and Virginia, the business's biggest purchase in a decade. The deal, first reported by Bloomberg, also ranked among Freddie Mac's largest ever.
https://www.propublica.org/article/the-kushners-freddie-mac-loan-wasnt-just-massive-it-came-with-unusually-good-terms-too?utm_source=sailthru&utm_medium=email&utm_campaign=majorinvestigations&utm_content=feature
Behind the White House Effort to Pressure the C.D.C. on School Openings
Documents and interviews show how senior officials sought to play down the risks of sending children back to the classroom, alarming public health experts.
WASHINGTON — Top White House officials pressured the Centers for Disease Control and Prevention this summer to play down the risk of sending children back to school, a strikingly political intervention in one of the most sensitive public health debates of the pandemic, according to documents and interviews with current and former government officials.
As part of their behind-the-scenes effort, White House officials also tried to circumvent the C.D.C. in a search for alternate data showing that the pandemic was weakening and posed little danger to children.
https://www.nytimes.com/2020/09/28/us/politics/white-house-cdc-coronavirus-schools.html?utm_source=The+Muck+Rack+Daily&utm_campaign=846d872afe-EMAIL_CAMPAIGN_2020_09_29_04_08&utm_medium=email&utm_term=0_af2b2023a3-846d872afe-19798469
Trump Secretly Mocks His Christian Supporters
Former aides say that in private, the president has spoken with cynicism and contempt about believers.
One day in 2015, Donald Trump beckoned Michael Cohen, his longtime confidant and personal attorney, into his office. Trump was brandishing a printout of an article about an Atlanta-based megachurch pastor trying to raise $60 million from his flock to buy a private jet. Trump knew the preacher personally. Creflo Dollar had been among a group of evangelical figures who visited him in 2011 while he was first exploring a presidential bid. During the meeting, Trump had reverently bowed his head in prayer while the pastors laid hands on him. Now he was gleefully reciting the impious details of Dollar's quest for a Gulfstream G650.
Trump seemed delighted by the "scam," Cohen recalled to me, and eager to highlight that the pastor was "full of shit. They're all hustlers," Trump said.
https://www.theatlantic.com/politics/archive/2020/09/trump-secretly-mocks-his-christian-supporters/616522/?utm_source=The+Muck+Rack+Daily&utm_campaign=846d872afe-EMAIL_CAMPAIGN_2020_09_29_04_08&utm_medium=email&utm_term=0_af2b2023a3-846d872afe-19798469
These are merely a few stories that are so bizarre that have so far received little attention. But there is so much more that winds up in the back pages or the cutting room floor, any one of which, in normal times would command days of front page attention.
And beyond that, there's another crucial story-—how can 53 Republican senators who control power in the U.S. Senate ignore all of this? The simple answer, and probably the correct one, is that they've parked their own ethics and sense of morality in a locker somewhere, fearful that to rile Trump would be to end their own political careers.
It's becoming more evident with each new poll that voters will mete out the career punishment they feared from Trump. Their feckless violation of solemn oaths of office will be a story that the media, and historians, won't ignore.
(Joe Rothstein can be contacted at jrothstein@rothstein.net)
---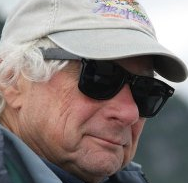 Joe Rothstein is editor of U.S. Politics Today. His career in politics spans 35 years, as a strategist and media producer in more than 200 campaigns for political office and for many political causes. He was a pioneer in professional political consulting and one of the founding members of the American Association of Political Consultants. During his career Mr. Rothstein has served as editor of the Pulitzer Prize-winning Anchorage Daily News and adjunct professor at George Washington University's Graduate School of Political Management. He has a master's degree in journalism from UCLA.
---