If Trump Loses, Trump, Inc. Becomes A Political Money-Making Behemoth
August 24, 2020

By Joe Rothstein

What happens next if Donald Trump loses? The Internet is churning with what-ifs about the prospect. Who picks up the Trump mantel? Do the never-Trumpers take back the party? If the party is routed, losing the U.S. Senate and many state legislatures, will there be a backlash against him?

The Trump presidency has been all about HIM. It's reasonable to assume that for Republicans, the post-Trump presidency would be all about HIM, too. Trump will continue to be in our face even if he's not in the White House.

For one thing, Trump's "brand" will be more valuable than ever. Making and keeping money, legally or illegally, ethically or fraudulently, has been Trump's lifelong MO. You can count on him turning his legion of followers into what amounts to a broken slot machine, one that keeps funneling cash into Trump, Inc. for years.

He didn't even wait until taking the oath of office before profiting from the presidency.

It began with his inaugural, and the $100 million or so that was raised for the celebration. Like most things Trump touches, the inaugural bank account has drawn a criminal investigation into who contributed, and why, and how it was spent.

Then there's the Trump hotel near the White House which continues to do a brisk business hosting lobbyists and foreign officials who see the wisdom of booking rooms and events there rather than other D.C. hotels.

Every time he goes to Mar-A-Lago or one of his other resorts, Secret Service, staff, media and others go with him, running up bills paid by the taxpayers. When Mike Pence traveled to Ireland, he and his entourage booked in at a Trump property that was on the other side of the country from where he was scheduled to speak.

Let's not forget that when Trump became president, son-in-law Jared Kushner was in desperate financial trouble over a commercial property in New York City. He was bailed out by a Canadian investment company with close financial ties to Qatar. Qatar originally refused to get involved, but then a strange sequence of events took place. The Saudis, backed by Trump, set up a blockade of Qatar, a key U.S. ally. Not long after, Kushner got his money. And after that, Trump dropped his backing of the blockade. Were these events connected by design or coincidence? Not being told the whole story permits us to speculate.

Like the N.Y. Times (May 28, 2018) speculated about this business arrangement involving Ivanka Trump:

"China this month awarded Ivanka Trump seven new trademarks across a broad collection of businesses, including books, housewares and cushions. At around the same time, President Trump vowed to find a way to prevent a major Chinese telecommunications company from going bust, even though the company has a history of violating American limits on doing business with countries like Iran and North Korea...the remarkable timing is raising familiar questions about the Trump family's businesses and its patriarch's status as commander in chief. Even as Mr. Trump contends with Beijing on issues like security and trade, his family and the company that bears his name are trying to make money off their brand in China's flush and potentially promising market."

Now, let's assume Trump loses in November. That doesn't mean he loses the tens of millions of fans who have stayed with him through multiple sex and financial scandals. How does he monetize the faithful?

--A TV/cable deal, obviously, where ratings would be high, advertising money would flow like a gusher to ride the wave of Trump endorsements, and there would be infinite opportunities to sell Trump-branded merchandise.

--Public rallies, probably with admission fees and high cost sponsorships.

--A Trump PAC able to raise unlimited political money would be slam dunk for him.

--So would a Trump presidential library fund.

One thing Trump excels at is developing money-raising schemes and bilking donors. The mind boggles at the opportunities for him once he leaves office.

But, you say, he'll be charged with various crimes committed while both in and out office. No problem. Can you imagine how much a Trump legal defense fund would raise? And how many appeals he can file. And how long he can outlast pesky criminal filings and civil litigation. He's kept those trying to see his tax returns at bay for his entire presidency. The same with the Stormy Daniels hush money case. There's no end in sight for either.

Out of office, Trump, Inc. would raise a not-small fortune, while keeping his base together and likely maintaining intact the most potent political weapon within the GOP. Republican office holders and candidates would continue to face peril in Republican primaries by challenging Trump, even on minor issues that penetrate his thin skin. Will the next few years see a rush of GOP candidates and office-holders trying to break loose from his political magic spell? Not likely. For the next few years, the Republican Party will remain Trump's party.

Which raises one final possibility. The constitution limits a person to serving two terms as president. Trump will have served only one. Think of all the money he could raise running to reclaim the White House in 2024. He's already raised more than a billion dollars this year.

Win or lose, Trump's not going away. But the Republican Party as it has existed for more than 150 years might.

(Joe Rothstein's latest novel, "The Salvation Project," is a finalist for this year's Pacific Reviews' political thriller of the year award. Rothstein can be contacted at jrothstein@rothstein.net).
---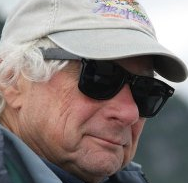 Joe Rothstein is a political strategist and media producer who worked in more than 200 campaigns for political office and political causes. He also has served as editor of the Pulitzer Prize-winning Anchorage Daily News and adjunct professor at George Washington University's Graduate School of Political Management. He has a master's degree in journalism from UCLA. Mr. Rothstein is the author of award-winning political thrillers, "The Latina President and the Conspiracy to Destroy Her," and "The Salvation Project."
---