Mueller's Bizarre Message: Yes, Trump and Russia Worked Together to Elect Trump, But It Wasn't Collusion
July 13, 2020

By Joe Rothstein

"We did not establish that members of the Trump campaign conspired with the Russian government in its activities."—Special Counsel Robert Mueller, Washington Post 7/12/20 op-ed.

In all the years of the ruinous Trump presidency, this statement by Mueller is one of the most bizarre.

Mueller could not establish that they conspired even though....

During the campaign, Roger Stone 1) Had contacts with Russian military intelligence officers who were neck deep in trying to undermine Hillary Clinton by stealing and publishing harmful emails and using social media to drive down her vote 2) Used intermediaries to communicate with Wikileaks on timing of email releases 3) Checked in frequently with Trump who obviously knew the Russians were hacking Clinton's emails ("Russia, if you're listening..." 4) Stone publicly bragged about knowing when Wikileaks releases would happen, and 5) Lied to cover all of this up.

And that didn't establish conspiracy?!!

Okay, how about this?

Trump's campaign manager, (and Roger Stone's former business partner) Paul Manafort, gave valuable internal polling information to a contact associated with Russian intelligence. As anyone who ever has been associated with campaign strategy will tell you, the greatest value of internal polling is to hone effective messages, and to direct those messages to the most vulnerable undecided voters. The evidence that the Russians had that information is in how it was used. Russian-directed advertising was remarkably efficient in its targeting and messaging.

And that didn't establish conspiracy?!!

The entire high command of the Trump campaign, Manafort, Donald Trump, Jr., and Jared Kushner, met with a Kremlin-connected contact at Trump Tower in June, 2016. Why? Because the Russian promised to give them "dirt" on Hillary Clinton. As if the meeting wasn't incriminating itself, when it was publicly disclosed, Trump wrote a phony account of the meeting, suggesting it was really about Russian orphans. Would he do that if he had not feared the consequences of the truth? (Russian orphans? Can you conceive of this crowd being concerned about Russian orphans?)

U.S. District Judge Amy Berman Jackson, after hearing the evidence at the Stone trial, had no problem deciding what actually happened. Roger Stone "was not prosecuted for standing up for the president; he was prosecuted for covering up for the president," said Jackson.

There were plenty of lawyers on Mueller's special counsel team. What they lacked were political consultants familiar with the tricks of campaigns that circumvent the law or misdirect voters just before elections. Conspiracy? Collusion? It was there in plain sight. It's a crime that Mueller didn't call it out for what it was.

The Russians were working on behalf of Trump, and Trump and his people were gleefully cooperating. Mueller had no doubt about that. From his Washington Post op-ed:

"The investigation did, however, establish that the Russian government perceived it would benefit from a Trump presidency and worked to secure that outcome. It also established that the campaign expected it would benefit electorally from information stolen and released through Russian efforts. Russia's actions were a threat to America's democracy. It was critical that they be investigated and understood. By late 2016, the FBI had evidence that the Russians had signaled to a Trump campaign adviser that they could assist the campaign through the anonymous release of information damaging to the Democratic candidate. And the FBI knew that the Russians had done just that."

It's bizarre that despite all of this evidence, no charge of conspiracy or collusion resulted from Mueller's investigation. At a minimum, the Trump campaign violated the law by soliciting and accepting campaign help from a foreign government.

Now, equally bizarre, despite all this evidence, Republicans are supporting Trump's claim that the FBI and the Obama administration were really the guilty parties in 2016, spying on his campaign and colluding to defeat him. These are the same Republicans who not long ago voted to impose sanctions on Russia for interfering in the 2016 campaign. (the Senate vote was 97-2). Lindsay Graham has weaponized the Senate Judiciary Committee to investigate the FBI's role, and Attorney General William Barr has legitimized this alternative view of history by conducting his own investigation.

So, this is what it has come to. Mueller's investigation found airtight evidence that Russia helped Trump win and that the Trump campaign cooperated in the effort, yet refused to call it collusion.

The Justice Department is investigating its own FBI for its role in uncovering Russian collusion.

Senate Republicans who voted to sanction Russia for interference are castigating the Obama administration for allowing the FBI to do its job by investigating Russia's illegal role in the campaign.

And Roger Stone, who was a key player in the Trump/Russian scheme and lied under oath about it is going free.

Trump has claimed, personally, and through his attorneys before the Supreme Court, that he could shoot someone on New York's Fifth Avenue and suffer no consequences. He hasn't done that, but after winning office through corruption and then presiding over the most corrupt administration in memory, no one in authority has yet made him pay a price for his crimes.

Let's hope the big jury trial on election day in November renders a different verdict.

(Joe Rothstein's political thrillers, "The Latina President," and its sequel, "The Salvation Project," are available from all on line book sellers and most independent book stores. Comments? Questions? Joe Rothstein can be contacted at jrothstein@rothstein.net).
---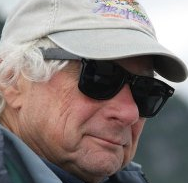 Joe Rothstein is a political strategist and media producer who worked in more than 200 campaigns for political office and political causes. He also has served as editor of the Pulitzer Prize-winning Anchorage Daily News and adjunct professor at George Washington University's Graduate School of Political Management. He has a master's degree in journalism from UCLA. Mr. Rothstein is the author of award-winning political thrillers, "The Latina President and the Conspiracy to Destroy Her," and "The Salvation Project."
---