Attorney General Josh Stein on U.S. Supreme Court Decision on Robocalls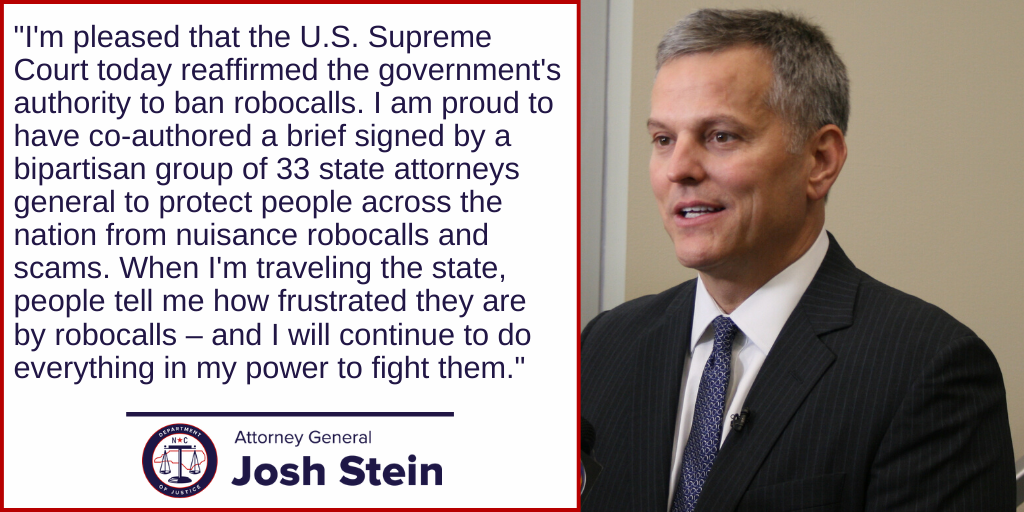 For Immediate Release: Monday, July 6, 2020
Contact: Laura Brewer (919) 716-6484
(RALEIGH) Attorney General Josh Stein today released a statement in response to the U.S. Supreme Court's decision in Barr v. AAPC, which upheld the federal robocall ban. Earlier this year, Attorney General Stein co-led a 33-state coalition of Attorneys General in filing an amicus brief [ncdoj.gov] in support of the ban.
Attorney General Stein's statement is below:
"I'm pleased that the U.S. Supreme Court today reaffirmed the government's authority to ban robocalls. I am proud to have co-authored a brief signed by a bipartisan group of 33 state Attorney General to protect people across the nation from nuisance robocalls and scams. When I'm traveling the state, people tell me how frustrated they are by robocalls – and I will continue to do everything in my power to fight them."
More on Attorney General Stein's work to confront robocalls:
###

Powered by

Distribution channels:

EIN Presswire does not exercise editorial control over third-party content provided, uploaded, published, or distributed by users of EIN Presswire. We are a distributor, not a publisher, of 3rd party content. Such content may contain the views, opinions, statements, offers, and other material of the respective users, suppliers, participants, or authors.
Submit your press release