Trump Will Make 2022's Election Be About Trump. That's A Winning Strategy for the GOP?
May 24, 2021

By Joe Rothstein

Yes, I understand that in most non-presidential years the party that runs the White House loses U.S. House seats to the party that doesn't. Many political pundits seem to take it as a given that the GOP will reclaim the majority in the House, and possibly also the Senate in 2022. But basing that view on history neglects another important factor--what do those Republican candidates say to help them capitalize on their opportunity?

Vote for me because I opposed President Biden's plan to flood the U.S. with hundreds of millions of vaccine units to quickly end the pandemic?

Vote for me because I opposed giving those out of work a few extra dollars to help them pay their bills until the jobs returned?

Vote for me because I opposed a non-partisan investigation into the storming of the White House by a violent mob?

Vote for me because when given the chance to fix and build the transportation network in my district I stood firmly against it?

Vote for me because the radical socialist Democrats wanted to raise taxes on the rich and on giant corporations that pay less in taxes than you do?

Vote for me because I didn't fall for the scheme to help families find safe and affordable child care?

Or maybe Republican candidates will run on more positive notes.

Vote for me because I still believe the 2022 election was rigged to help the Democrats win the White House (even though rigging didn't stop me from winning reelection legitimately on the same ballot).

Vote for me because I support making the act of voting in 2022 far more difficult than it was in 2020.

Vote for me because I sponsored legislation to investigate why some Doctor Seuss books no longer are published.

I'm trying to visualize how these messages or others like them---the record GOP legislators are building for themselves this year---might be used to sway voters in Republican TV ads and brochures and emails.

Maybe none of this will be relevant. Far more likely, the main, the only, message that really matters to Republican candidates will be "Vote for me because Donald Trump endorses me and I support him."

That would be consistent with the immortal language of the 2020 Republican Party national platform:

"RESOLVED, That the Republican Party has and will continue to enthusiastically support the President's America-first agenda;

"RESOLVED, That the 2020 Republican National Convention will adjourn without adopting a new platform until the 2024 Republican National Convention."

That's it. Nothing about jobs, education, health, national security, climate change, civil rights, our troops fighting a war in Afghanistan. Nothing. Not even a word about the pandemic that at the time was killing tens of thousands of Americans each day. It was like going back more than half a century to China when Mao tse-tung's words in a little red book entitled "The Thoughts of Chairman Mao" were China's gospel. In Trump's world it will be the 2022 version of his Twitter feed.

Given the fidelity being shown by most elected Republicans to Trump even now, after he fomented an insurrection and continues to trash and threaten members of his own party who admit to it, most Republican candidates appear ready and willing to base their 2022 campaigns on whatever it is Trump wants the issues to be.

And so yes, I understand the advantages the party out of the White House historically has had in non-presidential years. But is history a useful template for an election in which the party out of power transforms itself into a cult, one that has pledged its heart and soul and outsourced its brains to an erratic, self-absorbed, lying, unethical, leader?

Why should we expect that the precedent of other off-year elections will apply to 2022? There's never been a presidency like Trump's. There's never been an off-year election like the one we're heading for, either.

(Joe Rothstein is a veteran political strategist and author of the prize-winning political thrillers, "The Latina President and The Conspiracy to Destroy Her," and "The Salvation Project." Rothstein can be contacted at jrothstein@rothstein.net).
---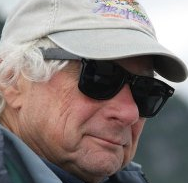 Joe Rothstein
is a political strategist and media producer who worked in more than 200 campaigns for political office and political causes. He also has served as editor of the Anchorage Daily News and as an adjunct professor at George Washington University's Graduate School of Political Management. He has a master's degree in journalism from UCLA. Mr. Rothstein is the author of award-winning political thrillers, The Latina President and the Conspiracy to Destroy Her, The Salvation Project, and The Moment of Menace. For more information, please visit his website at
https://www.joerothstein.net/
.
---