Bi-Partisanship? How Do You Negotiate With A Party Who's Main Goal Is to See You Politically Dead?
April 14, 2021

By Joe Rothstein

No president in modern times entered the White House more intent on achieving bi-partisanship than Barack Obama. Obama had pledged to work across the aisle and he tried mightily to succeed, even though large Democratic majorities in both houses of Congress were in place ready to approve his agenda.

Obama's top priority was a rescue plan to pull the nation out of the deep recession. Over a period of months he scaled back his original proposal to win Republican support. Despite his overtures, no Republican House member and only 3 Republican senators voted for it.

Next up was Obama's plan for addressing the health crisis. To the dismay of many Democrats who favored a less industry-oriented plan, Obama adopted one devised by a Republican think tank as an alternative to a single payer solution. For more than a year, Democratic-controlled committees held dozens of hearings and accepted hundreds of Republican amendments. On the final vote, no Republican senator and only one Republican congressman voted for it.

Joe Biden was vice president at the time, a veteran legislator with decades of experience in the U.S. Senate, a personal friend of many Republican senators. Yet, even he couldn't translate Obama's good faith effort into Republican votes.

Now Biden's the president. One of his major goals is to rebuild the nation's infrastructure and adapt it to 21st century reality. Supposedly, he and Mitch McConnell are good friends. They may be, but McConnell's major political goal is no different than it was when Obama was president, to see to it that Biden fails and Republicans regain the White House.

Another of President Biden's major goals is to address the crisis of child poverty. House Minority Leader Kevin McCarthy may also care about child poverty, but that won't drive his political positions. McCarthy sees a chance for Republicans to retake the House in 2022. Biden's success in reducing child poverty, or making progress on anything at all the public cares about, just complicates Republican chances for regaining power.

Cynical? No. From the viewpoint of Republican congressional leadership it's totally rational. They created gridlock for Obama and politically it worked. Republicans took control of Congress in the very next election.

What's different now than in the early months of Barack Obama's presidency is the experience of the last 12 years. Republicans may be whining that Biden is moving ahead on legislation without them, but Biden would be a fool to think that if he hit the brakes to wait for Republicans to come aboard in some middle ground, that in the end he would enjoy strong bi-partisan majorities for his agenda. No, the most logical outcome would be delay after delay and no Republican votes, another missed opportunity, and very likely defeat at the polls at the hands of millions of disappointed voters.

So, unless you're cheering for a failed Biden presidency, don't buy into the Greek chorus of Republicans and many journalists, wailing about Biden going it alone.

The obvious problem here is that for Republicans, political power has become a substitute for political performance. If you doubt it, re-read the 2020 Republican Party platform. It just says that the party stands for whatever Donald Trump wants to do, and against whatever Democrats want to do. Period. It addresses not a single issue of consequence.

That's consistent with Republican performance during the four years of Trump and Republican Party control of Congress. The only two congressional highlights worth remembering from those years are tax cuts for the rich and failure to destroy the Affordable Care Act.

That's a party barren of ideas, blind to a raft of public needs, and riddled with the self-dealing opportunities power provides.

In the case of the Senate particularly, the problem and its answer lies with Mitch McConnell. As noted earlier, power is his defining interest. And he wields it not only against Democrats but also to keep his own Republicans in line. Why do they put up with it? Because McConnell controls hundreds of millions of campaign dollars. In this post-Citizens United era of $50-$100 million campaigns, you seldom win unless you can raise that kind of money, and for most Republicans running for re-election, you can't raise that kind of money without McConnell.

Get rid of Citizens United, bring some sanity to the influence of money on elections, and McConnell and others with bankrolls will lose much of their influence. As a member of Congress that would mean thinking and voting independently would pose less of a threat to your political future.

Until then, Joe Biden should keep inviting the Republicans to participate, but without any expectation that they actually will show up.

(Joe Rothstein is a veteran political strategist and author of the political thrillers "The Latina President and The Conspiracy to Destroy Her," and "The Salvation Project." Rothstein can be contacted at jrothstein@rothstein.net).
---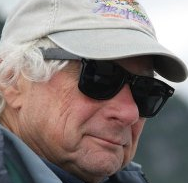 Joe Rothstein
is a political strategist and media producer who worked in more than 200 campaigns for political office and political causes. He also has served as editor of the Anchorage Daily News and as an adjunct professor at George Washington University's Graduate School of Political Management. He has a master's degree in journalism from UCLA. Mr. Rothstein is the author of award-winning political thrillers, The Latina President and the Conspiracy to Destroy Her, The Salvation Project, and The Moment of Menace. For more information, please visit his website at
https://www.joerothstein.net/
.
---