The Biden Strategy for 2022: A Robust Economy, A Diminished Trump, and A Lot of Republicans Dragged Down With Him
March 16, 2021

By Joe Rothstein

Even after he won the Democratic party's nomination, much of America had reservations about Joe Biden's ability to run a successful presidency. A June New York Times-Siena poll showed Biden's "very favorable" rating as 26%. His "very unfavorable" rating was 27%.

Biden's age was a problem for many voters. He will be 82 at the end of his current term. He had defeated Bernie Sanders, Elizabeth Warren, Kamala Harris and others who had more aggressive policy agendas. In addition to seeing Biden as too centrist for the times, many voters didn't find him exciting or inspiring. Election eve polls showed a large enthusiasm gap between Trump supporters and Biden supporters. The post-election consensus was that Biden won because he was the anti-Trump, not because he had won America's hearts and minds. A popular new book titled, "Lucky," argues that luck was Biden's most important asset.

Now, after 50 days in office, we're past assumptions and expectations and can begin judging Biden on performance. With the American Recovery Act, Biden has scored many points with both the public generally and with the large progressive community within the Democratic party. To the extent that Biden needs party unity to make the most of thin congressional majorities, he is off to a good start. In addressing the public's number one concern, ending the pandemic, he has two-thirds or more of the public on his side. And by not making ending the filibuster a defining issue, he has taken a bit of the sharp edge off of upcoming negotiations with congressional Republicans on the next items on his agenda.

Yes, Republicans have howled loudly about being left out of Recovery Act negotiations, but they could have howled a lot louder. In fact, most Republicans have low-keyed their votes against the Recovery Act, understanding the political risks of being on the wrong side of a program as popular as this one.

With the first big test passed, what is coming clear is the Biden strategy for making the most of the thin Democratic majority while trying to overcome the historic pattern of the party in the White House losing seats in the next mid-term election. That strategy is moving along two tracks, one that's pretty much within his power to control, the other not.

For the next high visibility congressional battle, the Biden team is teeing up an infrastructure package. Expectations are that Senate Democrats will try to win passage by again bypassing the filibuster. Don't be too sure. Infrastructure is something once labeled "pork." And a member's right to "earmark" a project for his or her own state or congressional district was, until not long ago, one of the most valued of member perks. The $2 trillion infrastructure package will include roads, bridges, mass transit, water and sewer systems, power grids, housing, advanced research to stay ahead of China, and more. That's a lot of "pork." Republican members of Congress are not going to let Democrats feast on it alone. And to invite Republican support, Democrats are waving a big carrot, reviving members' rights to earmark projects.

Republicans also are faced with a robust push by the U.S. Chamber of Commerce to pass a big infrastructure bill. The Chamber's "Build By The Fourth of July" campaign includes support from hundreds of businesses, labor unions and environmental organizations. It's likely to happen, and getting at least 10 Republican senators to vote for it and overcome a filibuster should be child's play for a professional team like Biden's.

Think of other issues on the agenda. The House just passed a gun background check bill. Will all Republicans continue to resist it given the NRA's bankruptcy? Immigration. A much tougher vote for Republicans, but one that could solidify the Latinx vote for Democrats if Republicans mishandle their opposition. Then there's HR1, the voting rights bill. Mitch McConnell buried it after it last passed the House. Not this time. The Democrats either will find a way to get it through the Senate or make Republicans pay a steep price for their opposition by making a big issue of it at the next election.

For Biden, a post-pandemic, infrastructure-busy economy in high gear represents Track 1 of his agenda. Business recovery. Low unemployment. High consumer confidence. And achieving this with a light political touch maintains his "moderate" image.

Then there's Track 2. This includes months of high visibility civil and criminal cases against the Capitol rioters, most of whom defend themselves by claiming, in one or another form, that Donald Trump produced, directed and starred in the January 6 attack. Meanwhile, Trump personally will continue to draw the spotlight as he defends himself in court against charges of political and business corruption. Convictions or no convictions, Trump's political strength will ebb considerably by mid-2022 along with the political fortunes of those who have and continue to defend him.

That's the Biden strategy—-a booming America and a burst of the Trump bubble, taking a lot of Republicans down with it. If it works, Democratic congressional majorities increase and whatever parts of the Biden agenda that fail to pass in the first two years, get done in 2023.

This is a lot to assume from just a 50-day sample. But the strategy seems clear. If it works, another book might be written about Joe Biden's "luck." This one describing how Biden was smart enough and politically savvy enough to make the most of those lucky breaks.

"Sleepy" Joe may just pull it off.

(Joe Rothstein is a veteran nation political strategist. His acclaimed political thrillers are available from all on-line book sellers and most independent book stores. He can be contacted at jrothstein@rothstein.net).
---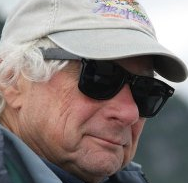 Joe Rothstein
is a political strategist and media producer who worked in more than 200 campaigns for political office and political causes. He also has served as editor of the Anchorage Daily News and as an adjunct professor at George Washington University's Graduate School of Political Management. He has a master's degree in journalism from UCLA. Mr. Rothstein is the author of award-winning political thrillers, The Latina President and the Conspiracy to Destroy Her, The Salvation Project, and The Moment of Menace. For more information, please visit his website at
https://www.joerothstein.net/
.
---