The Inequality Gap Divides Us, Closing It Would Be The Greatest Healer
March 10, 2021

By Joe Rothstein

The United States is by far the richest country in the world as measured by gross domestic product (GDP), the most accepted standard for such things. But using another commonly applied metric, the human development index (HDI), the United States falls to 17th in the world, behind most of Europe, Canada, Australia and New Zealand. The HDI includes quality of life statistics, such as life expectancy and education, along with GDP factors.

The gap between the two indexes is stark, and easily explained. For the past four decades, U.S. public policy has been tilted to favor the rich and has been far less responsive to everyone else.

According to a recent Pew Research study, "The wealth gap between upper-income and lower- and middle-income families has grown wider this century. Upper-income families were the only income tier able to build on their wealth from 2001 to 2016, adding 33% at the median. On the other hand, middle-income families saw their median net worth shrink by 20% and lower-income families experienced a loss of 45%. As of 2016, upper-income families had 7.4 times as much wealth as middle-income families and 75 times as much wealth as lower-income families. These ratios are up from 3.4 and 28 in 1983, respectively."

From 1979 to 2017, earnings grew 15 times faster for the richest 0.1 percent than for most everyone else.

Today's yawning inequality gap is the result of yesterday's public policy choices. Among other things, it results from how and who we tax, how we regulate business activity, the rights we give or deny workers to negotiate for pay and benefits, how much we ask of those who work for wages as opposed to those who inherit wealth or make money from investments.

The reality is that the deepest fault line in the U.S. today isn't Republican-Democrat, liberal-conservative, urban-rural. It's not even race. What most divides us is a system that showers ever more benefits on a few and erects ever higher barriers to progress for the many.

The pandemic didn't create this problem, it just accentuated it and made it more obvious. Tens of millions have lost their jobs, many of them permanently. Huge inequities in the health care system have been exposed. Food banks have been overwhelmed. The volunteer diaper network distributed 100 million diapers to families that can't afford them. And, bizarrely, the same economic situation that created so much economic anguish for most, allowed the 10 richest billionaires collectively to become $540 billion richer.

Since public policy created this divide, public policy can remedy it. President Biden and the Democrats in Congress made a start with the current recovery act. But much of the assistance, such as the child tax credit, is a temporary fix. It needs permanency. The House-passed labor bill would remove many of the organizing and negotiating restraints imposed on workers during the past few decades. The Democrats need to win Senate approval to make those changes law. And now, Elizabeth Warren has proposed the wealth tax that was a centerpiece of her campaign for president.

Her plan is to levy a two-cent tax on every dollar a taxpayer makes beyond a $50 million threshold. The tax would bump up to 3 cents once a person's assets reach $1 billion. The money from these taxes would more than pay for universal child care, tuition free college, cancelling student debt and a robust infrastructure improvement plan. With safe and affordable child care, more families would be free to work outside the home and add to their incomes. With tens of millions no longer burdened by college tuition or debt, more money would be freed up to buy homes and add to consumer spending. A modern infrastructure program would not only create millions of new jobs, it would make long delayed improvements in water and sewer systems, bridges and roads, the national power grid and mass transportation systems.

According to the polls, the public supports all of this. The wealth tax wins 2-1 approval. The White House and congressional Democrats must find a way to get it done.

Much of the anger so evident among Trump supporters and Black Lives Matter protestors stems from the inequality of opportunity public policy has created in recent years. We can't have a country where the gap between the ultra rich and everyone else continues to widen, where those on the losing side of that divide continue to lose ground and lose hope. It's not sustainable economically or politically.

Creating paths for most Americans to gain a fairer share of the economy they are working to build is not only right for reasons of equity, it is the single most important response the government's leaders can make to help lower the level of public anger.

(Joe Rothstein is a veteran political strategist and author of the acclaimed political thrillers, "The Latina President and The Conspiracy to Destroy Her," and "The Salvation Project." He can be contacted at jrothstein@rothstein.net).
---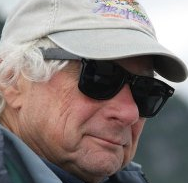 Joe Rothstein is a political strategist and media producer who worked in more than 200 campaigns for political office and political causes. He also has served as editor of the Pulitzer Prize-winning Anchorage Daily News and adjunct professor at George Washington University's Graduate School of Political Management. He has a master's degree in journalism from UCLA. Mr. Rothstein is the author of award-winning political thrillers, "The Latina President and the Conspiracy to Destroy Her," and "The Salvation Project."
---