Whatever Trump and Putin Secretly Talk About Is Making Russia Great Again
September 28, 2020

By Joe Rothstein

How on earth did Time magazine exclude Vladimir Putin from its list of the 100 most influential people in the world? He not only deserved that recognition, he should have been #1.

As the leader of a nation that ranks 11th in world GDP, Putin has managed to wreck havoc on the U.S. and virtually every other country with larger economies.
He's driven perhaps an irreversible wedge between the U.S. and its European NATO allies, weakening an alliance that has kept Russian expansionist interests at bay for 75 years.

He's all but replaced the U.S. as the principal outside military force in the Middle East by saving Syria's Assad and cozying up to Turkey.

He's helped turn the China-U.S. economic partnership into a hot mess of tariffs, ill will and military tension while improving Russia's own relationship with its border rival.

And perhaps most significant of all, Putin has fractured belief in democratic government worldwide, even among Americans themselves.

Talk about influence! There's nothing that comes close to matching it. No one in modern history has has achieved more consequential geopolitical results with less risk and at such a low cost.

How has Putin managed this? Well, primarily by managing the mind of Donald Trump.

Way back in 2016, many of us believed Putin was helping Trump because of his animosity for Hillary Clinton. Clearly, Putin had designs on a much richer prize than simple revenge politics. The fact that he helped Trump and that his help was an important factor in making him president is beyond dispute. The entire U.S. intelligence community was on to it before a single vote was cast. The Mueller investigation identified the sources and methods Putin used.

Once in the White House, a fawning and appreciative Trump went all in on a pro-Russia agenda. For 75 years, Russian leaders have struggled to weaken the U.S-western Europe alliance. They walled off Berlin, sent tanks and troops to put down insurgencies in Hungary, the Czech Republic and Poland, cut off energy supplies to the West, and railed incessantly against Western aggression.

With Trump in the White House, all Putin had to do was have an American president show up at NATO meetings and treat U.S. support for the alliance as a financial protection racket.

The Cold War was a decades-long effort by Russia to exert its political influence and undermine the advance of the U.S. model of democratic government. With the collapse of the Soviet Union, the U.S. effectively won that contest. Now, with Americans openly warning of armed conflict among themselves and Trump inflaming distrust of the popular vote, the viability of the U.S. system of popular rule is under a dark cloud of doubt.

Is it fair to give Putin credit for all this? A year ago the Washington Post published an article listing 16 private conversations between Trump and Putin, most with no aides or observers present, just interpreters. On one occasion Trump confiscated the notes of the meeting from his interpreter. On at least one other occasion only a Russian interpreter was present. Unlike the past, where presidents included aides from the State Department and the National Security Council on phone calls to avoid later misrepresentation or misunderstanding, most Trump-Putin phone calls have been strictly private.

What was said? What was promised? Who knows? Trump has gone to unusual lengths to hide content and substance from even those in his own government who have every national security reason to know.

And speaking of national security, Dan Coats, Trump's own appointee as director of all U.S. intelligence, could not shake his "deep suspicions" that Putin "had something" on President Trump, seeing "no other explanation" for Trump's behavior, according to Bob Woodward's new book, "Rage." Add to that suspicion the fact that Trump forced Coats out of the top intelligence post in August, 2019, and replaced him with an inexperienced political ally.

What could that "something" be? If it's there, Putin knows. We don't, even after the New York Times' disclosure of Trump's tax records.

What we do know from the NY Times' disclosures is that Trump is in so much financial trouble he could not be approved for security clearance if he was a private citizen.

We do that that Deutsch Bank, which has been implicated in countless illegal money schemes, many of them involving Russians, was the only bank willing to deal with Trump.

We do know that while serving as as vice-chairman of the Bank of Cyprus, Trump's close friend (and now Commerce Secretary) Wilbur Ross, oversaw the sale of the bank's Russia-based businesses to, Artem Avetisyan, a Putin confidante and principal in Russia's largest bank, Sberbank. At the time, Sberbank was under US and EU sanctions following Russia's annexation of Crimea.

We also know that Trump's business was bailed out from collapse in part by huge streams of Russian money buying up Trump property, including in one case, a Russian billionaire paying $40 million more for Trump's home in Florida than what was then the market price. The buyer also was a director of the shadowy bank in Cyprus.

And we do know, from Pulitzer Prize winning New York Times writer Michael Schmidt (in his new book, "Donald Trump v. The United States, Inside the Struggle to Stop a President) that former Deputy Attorney General Rod Rosenstein secretly curtailed an FBI counterintelligence probe into Trump's ties to Russia.

There's a straight line running through Trump's Russian business connections, Putin's involvement in the 2016 election, and Trump's support of a pro-Russia agenda. We don't yet know all the details and Trump has gone to great lengths to avoid sharing them with the public.

But one thing is certain, there's little difference now between Putin's geopolitical agenda and Trump's. Trump has the U.S. in full retreat from its once worldwide sphere of influence and Russia is gaining traction everywhere.

That's influence on a grand scale.

How did Time magazine miss it?

(Joe Rothstein can be contacted at jrothstein@rothstein.net. He is author of the award-winning political thrillers, "The Latina President" and "The Salvation Project," both on sale from all on-line book sellers and most independent book stores).
---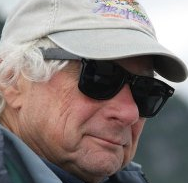 Joe Rothstein
is a political strategist and media producer who worked in more than 200 campaigns for political office and political causes. He also has served as editor of the Anchorage Daily News and as an adjunct professor at George Washington University's Graduate School of Political Management. He has a master's degree in journalism from UCLA. Mr. Rothstein is the author of award-winning political thrillers, The Latina President and the Conspiracy to Destroy Her, The Salvation Project, and The Moment of Menace. For more information, please visit his website at
https://www.joerothstein.net/
.
---