Public Education Has Preached Democracy for Centuries. Will Those Roots Be Strong Enough to Protect Democracy from Trump?
September 13, 2020
By Joe Rothstein
You've likely encountered this story more than once.
Shortly after delegates to the Constitutional Convention agreed on the details of the nation's founding document, the wife of Philadelphia's mayor asked Benjamin Franklin "what have we got, a republic or a monarchy?" Franklin replied, "A republic, if you can keep it."
During the 233 years since, the nation has beaten back many assaults on our constitutional government. A civil war. Multiple periods of high-level corruption. Foreign challenges that required the nation to take up arms to defend its democratic system.
But the challenge the nation's founders feared the most, losing the republic to non-democratic autocrats, has not arisen in any serious way. Until now.
For the first time since George Washington (who declined a third presidential term so as not to set an autocratic precedent), the nation has a president who has raised the prospect of not leaving office if he loses the election. A president who questions the voting process itself ("The only way I lose, is if it is rigged"). A president who, during his term of office, has shown little understanding or respect for his constitutional limits ("I have absolute authority"), or the legal system, or the separation of powers. He already has subjugated his allies in Congress to yes-men roles. With four more years in the White House he would then have appointed enough like-minded judges, at all levels of the judiciary, to provide legal cover for however he chooses to use his authority.
Trump is the charismatic authoritarian Ben Franklin feared with his warning, "a republic, if you can keep it."
Whether or not we can keep it depends, not on each day's news, or political commercials, or the work of political organizations. We have one defense against a slide into authoritarianism: Education. Free, public, compulsory education.
The nation's founders understood that an educated, informed public would be the best defense of our democratic system.
Thomas Jefferson: "I know no safe depository of the ultimate powers of the society but the people themselves. And if we think them not enlightened enough to exercise their control with a wholesome discretion, the remedy is not to take it from them, but to inform their discretion by education. This is the true corrective of abuses of constitutional power."
Sam Adams: "It is an object of vast magnitude that systems of education should be adopted and pursued which may not only diffuse a knowledge of the sciences but may implant in the minds of the American youth the principles of virtue and of liberty and inspire them with just and liberal ideas of government and with an inviolable attachment to their own country."
It took nearly 100 years to achieve the founders' goal, but since 1870, every state has had free, public, compulsory education at the grammar school level. Our system of 12 years of formal education has been standard since the National Education Association recommended it in 1892. During the bloodiest years of the Civil War, Congress enacted the Land Grant system, allowing states to establish colleges for agriculture and engineering. We know them today as state universities.
The U.S. has effectively achieved 100% literacy. By far, more Americans have won Nobel prizes than citizens of any other nation. Much is made of the fact that school age Americans don't do as well, on average, as many of their foreign peers. But few nations have made education as universal as the U.S. and for as long as the U.S. Until the past three years of Trump's foreign-nation bashing, the U.S. was the world's education magnet. The model of U.S. democracy embedded in our Constitution has been a beacon for billions in every other nation on earth, a cause we have encouraged and supported.
Now we are about to test whether the roots of democracy nourished through centuries of teaching, learning, and defending our system of government against other assaults are strong enough to resist the charismatic autocrat our founders knew would one day threaten democracy.
After 233 years, Franklin's warning, "if we can keep it," is a question for all of us who vote in this year's election to answer.
(Joe Rothstein can be contacted at jrothstein@rothstein.net, or on his website,
www.joerothstein.net
. His political thrillers, "The Latina President" and "The Salvation Project" are available from all on-line book sellers and most independent book stores).
---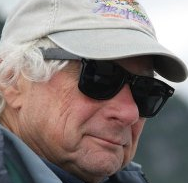 Joe Rothstein is editor of U.S. Politics Today. His career in politics spans 35 years, as a strategist and media producer in more than 200 campaigns for political office and for many political causes. He was a pioneer in professional political consulting and one of the founding members of the American Association of Political Consultants. During his career Mr. Rothstein has served as editor of the Pulitzer Prize-winning Anchorage Daily News and adjunct professor at George Washington University's Graduate School of Political Management. He has a master's degree in journalism from UCLA.
---