To Cowed GOP Senators, 'Herd Immunity' Means Protection from Trump's Tweets
September 7, 2020

By Joe Rothstein

This is the first election in my memory where a vote for any of the Republicans running for reelection to the Senate is totally irrelevant.

Why? Because Republican senators have opted for "herd immunity," an immunity that has nothing to do with the pandemic. Rather, they are huddled as a herd to protect themselves from Donald Trump's tweets.

Is Trump trashing the nation's intelligence agencies? No problem. Surrounding himself with convicted felons? Yawn. Turning the Census into a political football? Compromising Congress's subpoena and appointment confirmation powers? Politicizing Homeland Security, the Post Office, the EPA? Wrecking relationships with allies? Betraying the Kurds?

Not only has Trump told more than 20,000 lies since he took the oath of office, he has committed dozens of offenses that most presidents would have been pilloried for by responsible congresses. This is not history. It's current events. Senators are not bystanders. They have a constitutional duty to see to it that the president does his--and to call out offenses when they occur.

Just in recent weeks Trump has admitted trying to cripple the U.S. Post Office so it won't be able to deliver the expected crush of absentee ballots. He's illegally used the White House as a campaign prop and smugly bragged that no one could stop him. He's threatened to deny cities run by Democratic mayors legally authorized federal payments. And he's been credibly accused of violating the honor of everyone who has died serving in this nation's uniform.

Asked what he thought of Trump's outrageous comments about the nation's military dead, all South Carolina Sen. Lindsay Graham could do was praise Trump for saving the Stars & Stripes newspaper. In Arizona, Sen. Martha McSally could only muster nice words to say about the late John McCain, whose seat she filled through appointment.

On the nation's most serious current problem, there's been no effort by Republican senators to investigate why the U.S. has been so deficient in handling the coronavirus crisis.

At a recent event, Colorado Sen. Cory Gardner was asked how the coronavirus pandemic became "so political" and eroded trust in government. Gardner replied by telling this story: "My 8-year-old son came to me and said, 'Dad, I know when the pandemic ends.' And I said, 'You do?' He says, 'Yes, the day after the election.' Now, he picked that up somewhere or heard that somewhere, or maybe mom and dad were talking too much around him."

So, dismissing reality of 180,00 deaths, you've joined the conspiracy crowd, Senator Gardner? Apparently your president has. He's trying to convince us only 6,000 victims died.

Asked on CNN to comment on Trump's increasingly wild Twitter accusations, Maine Sen. Susan Collins said, "I have a difficult race. And I am concentrating my efforts on that race." Certainly. Why comment on an off-the-rails President who's doing such damage to the economy and the nation's health? Not my problem.

On the other hand, North Carolina Senator Tom Tillis has virtually twinned himself to Trump. In a recent interview, Tillis said Trump was "100 percent" treating coronavirus like a serious crisis and praised the administration's work with the Senate on the federal response. That response, of course, is no bill at all. No unemployment extension. No money for struggling states. No eviction protection.

Graham, McSally, Gardner, Collins and Tillis are five of the most vulnerable Republicans running for reelection this year. Republican primaries are well behind them. Now they need to appeal to Democrats and independents, too. Maine and Colorado are almost certainly going to support Biden for president. North Carolina and Arizona could go either way. You would think with their Senate seats in the balance they would make some effort to publicly recognize Trump's flaws and appeal across party lines. Apparently, they are too fearful of Trump's Twitter death star to stray from the herd, even in a general election.

What's the point of reelecting any of them if they'll just be sock puppets in another Trump term? Or bricks in McConnell's gridlock if Biden wins.

Trump has corrupted just about everyone he's touched during his business career and presidency. That includes the Republicans in the Senate who have given Trump their proxy for everything and anything of importance. If this election is a clean-out-Trump's-rot election, Senate Republicans need to go out with him. As a herd.

(Joe Rothstein's political thrillers, "The Salvation Project" and "The Latina President" are for sale from all on-line book sellers and most independent book stores. Rothstein can be contacted at jrothstein@rothstein.net).
---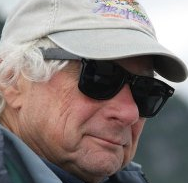 Joe Rothstein is a political strategist and media producer who worked in more than 200 campaigns for political office and political causes. He also has served as editor of the Pulitzer Prize-winning Anchorage Daily News and adjunct professor at George Washington University's Graduate School of Political Management. He has a master's degree in journalism from UCLA. Mr. Rothstein is the author of award-winning political thrillers, "The Latina President and the Conspiracy to Destroy Her," and "The Salvation Project."
---