Trump Mr. Law and Order? Blah, Blah, Blah
August 31, 2020

By Joe Rothstein

The most jarring part of the Republican convention for me was to see those huge Trump/Pence signs on the White House lawn. It symbolized the conversion of the people's house into just another Trump property. Was it illegal? Unethical? "Nobody outside the beltway really cares," said Trump's chief of staff, Mark Meadows.

Or, to put it more succinctly, "Blah, blah, blah. Let me know when the jail sentence starts." That was Kellyanne Conway's response to be being cited for the umpteenth time for violating the law barring federal (taxpayer paid) employees from active political participation. For breaking the law, the White House Office of Special Counsel recommended that Conway be fired. But Conway had nothing to fear from her immediate supervisor, Donald Trump. He had no intention of firing one of his most effective law-breaking spokespeople.

It's really rich that Trump is running as a "law and order" candidate when he habitually violates the law himself and constantly foments disorder as a political strategy. And he is ramping up his lawlessness and shameful divisiveness as we close in on election day.

For Trump, giving the law his middle finger with the egregious perversion of White House property and illegal exploitation of federal employees is merely an extension of his entire corrupt career.

Trump personally or through one of his companies has been party to more than 3,500 legal actions, including at least 169 suits in federal court. Break the law and then muddle the charges. Borrow money, fail to pay, settle for far less or nothing at all. Hire people, don't pay them, file for bankruptcy and wipe the slate clean. Abuse people, buy their silence.

And now, as president, for a wide range of activity, he IS the law. He has turned the Department of Justice into his personal law firm. He appoints the judges. He politically cows Republican members of Congress who could, but don't oversee and end all of the illegality.

Failure to enforce the Hatch Act is a serious crime. During Trump's three plus years in the White House, many federal employees have lost their jobs or paid steep penalties for violations less serious than Kellyanne Conway's and those of other Trump loyalists. Many others have gone to jail for crimes less serious than Roger Stone's or Michael Flynn's.

Imagine the lawlessness of another Trump term in the White House. Hatch Act? It's not a stretch to imagine a reelected Trump making active Republican party membership and proven Trump loyalty a condition of any federal appointment or contract. Who would resist? A Barr-led Justice Department? Trump appointed inspector generals? A Trump appointed judge?

And that's just one law. Any law-breaking Trump loyalist unfortunate enough to be found guilty of anything can reasonably expect a Roger Stone-like get-out-of-jail-free card. Certainly, that's what Paul Manafort's counting on. More tax dollars being spent at Trump properties? More fat federal no-bid contracts awarded to Trump contributors?

Trump already has successfully spurned congressional committees subpoenaing federal appointees to testify at congressional hearings. Let's say a Democratic Congress does prevail with a court order, who in the Trump administration would enforce it?

Would there be a business revolt against Trump authoritarianism? Trump has had no reservations about promoting business friends (buy Goya) and punishing perceived business enemies (don't buy Goodyear). How many companies would want to fall on the wrong side of that history? Especially if he keeps cutting their taxes and overlooking their monopoly practices?

If all this sounds familiar, it is. Putin took power with a claim to make Russia great again. He maintains power because he controls the military, the intelligence apparatus and the business elite he helped make rich.

The parallels aren't exact, but the concept is valid. Allow someone who has no respect for the law to be its chief enforcer and you get what you have in Hungary, Poland and Turkey, countries that not that long ago had relatively democratic governments.

When you weigh Trump's history against the words "law and order," the prospects are scary. Trump and all his friends would emulate Kellyanne Conway's cynical dismissal of legality, "Tell me when the jail sentence starts." (wink, wink).

Even "blah, blah, blah," sounds more appealing.

(Joe Rothstein's novel, "The Salvation Project," is a finalist for the prestigious Pacific Reviews Thriller of the Year award. "The Salvation Project" and Rothstein's "The Latina President" are available from all on-line book sellers and most independent book stores. Rothstein can be contacted at jrothstein@rothstein.net).
---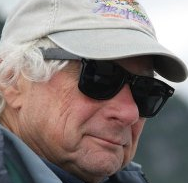 Joe Rothstein
is a political strategist and media producer who worked in more than 200 campaigns for political office and political causes. He also has served as editor of the Anchorage Daily News and as an adjunct professor at George Washington University's Graduate School of Political Management. He has a master's degree in journalism from UCLA. Mr. Rothstein is the author of award-winning political thrillers, The Latina President and the Conspiracy to Destroy Her, The Salvation Project, and The Moment of Menace. For more information, please visit his website at
https://www.joerothstein.net/
.
---