In This Age of Advanced Science, A Debate Over.....Face Masks?
June 29, 2020

By Joe Rothstein

One of the byproducts of gross mismanagement of the pandemic by Trump and others in authority has been a national debate over science, a debate, improbably, over whether we should be wearing masks to fight the coronavirus. Who would have thought such a simple act, such a personal act, would be fraught with political consequences?

This always has puzzled me about climate change as well. Why the political intensity of those who oppose measures to limit carbon pollution? Why do so many believe that climate change is a conspiracy entered into by thousands of scientists and politicians? A vast conspiracy that not one conspirator is willing to admit exists. In all of human history there's never been a conspiracy as successful at keeping its secrets.

For a while, the consequences of climate change seemed too far beyond the horizon to generate much concern. But to hold such views in the face of historic heat waves, droughts, climate-forced migrations and other clear evidence?

And now, here we are with another undeniable reality, another scientific consensus, and another, literally fight-to-the-death opposition to the least political of objects: a face mask. As with climate change, this is hardly the place to plant the flag of civil liberties. Not wearing masks, not safe distancing, not hand washing regularly---all of it puts everyone else at risk of serious illness and death.

A civil libertarian dispute worth fighting is the one on the nation's southern border. The government is taking away private land to build a wall, and many of those land owners are resisting. That's an economic dispute, a political dispute, a dispute over land use and private property. The resistors are not threatening the lives, health and economic well being of everyone who lives in North America.

How bizzare is this situation? It's defined nearly day in Facebook postings and Twitter and Instagram feeds that come across my laptop. Some examples:

(Image of a young schoolboy)
"So me, wearing a bulletproof backpack to school with metal detectors, armed guards and mass-shooter drills is 'the price of freedom,' but you, wearing a mask in Walmart for 10 minutes is 'tyranny'?"

"I'm so confused by this sentiment that wearing a mask is 'living in fear.' If you wear a seat belt are you living in 'fear?' If you wear sunscreen are you living in 'fear?' If you wear a bicycle helmet, are you living in 'fear?'

"If you don't wear a mask because 'God protects you,' you don't need an assault rifle for the same reason."

"If I have to still take my shoes off to get on an airline because of a failed terrorist attack that happened 19 years ago, you can wear a mask during a pandemic that has killed 100,000 Americans."

As an important corollary to mask resistance, we have resistance to testing. Rock bottom of that argument was Trump's statement (June 15) "If we stop testing right now, we'd have very few cases." Prompting these reactions, among many...

"The reason our country is having so many heat waves is because we have so many more thermometers! More than any other country. If we stopped looking at thermometers, we'd have very few days over 80 degrees, if any!"

And…

"Trump says that more testing leads to more COVID cases and if we just stopped, there would be fewer cases. By that logic, if we stopped asking for people's immigration status we'd have fewer undocumented people in the U.S."

This final posting from my Facebook collection sums it up without any further comment from me:

"Here's how you grieve for 100,000 lives: You wear a mask at the damn grocery store and you wash your hands and you keep your distance and you show kindness to cashiers and you follow the simple rules in place to keep people healthy and alive because that's what decent human beings do, and because 100,000 grieving families deserve it."

When I selected these quotes from social media the number of Americans dead from covid-19 was about 100,000. As I write this, the number is approaching 130,000.

(Joe Rothstein's political thrillers, "The Latina President," and "The Salvation Project," are available from all on line book sellers and most book stores. Comments? Questions? Joe Rothstein can be contacted at rothstein@rothstein.com).
---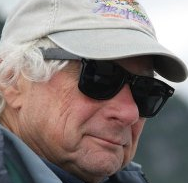 Joe Rothstein is editor of U.S. Politics Today. His career in politics spans 35 years, as a strategist and media producer in more than 200 campaigns for political office and for many political causes. He was a pioneer in professional political consulting and one of the founding members of the American Association of Political Consultants. During his career Mr. Rothstein has served as editor of the Pulitzer Prize-winning Anchorage Daily News and adjunct professor at George Washington University's Graduate School of Political Management. He has a master's degree in journalism from UCLA.
---