No Joke. Trump As Superman (red tie flying) Coloring Book for Sale At The "Trump Store"
May 29, 2020

By Joe Rothstein

A while back I signed on to the Trump email network, which is extraordinarily active but gets very little attention. As you would imagine, the emails are a steady stream of invective, ego massage and money raising. Rather than try to analyze it for you, I've selected some representative samples.

Much to my surprise, I discovered he considers me one of his closest advisers.

"Joe: "I'm pleased to present you with this invitation to join the Trump 100 Club. I've only selected 100 Patriots in the entire Nation to join this prestigious club, and YOU are one of them. Trump 100 Club Members are going to be the ones I turn to when I need the advice of the American People. I'll be counting on your feedback to represent the views of millions of voters. I need my loyal supporters like YOU to be my eyes and ears around the Country, and I need to know that I can rely on you these next few months. Joining the Trump 100 Club is absolutely paramount to our success, and that's why I'm calling on YOU to step up and accept my offer. We are only inviting 100 Patriots, so don't miss your chance to be a part of this exclusive group."

You would not expect admission to this exclusive circle to be free, and it wasn't. It came with a money pitch. While I was considering his invitation, I received a follow up message from his office, obviously disappointed in me for not acting more quickly.

"Joe, where have you been? You were selected as 1 of the 100 Patriots in the entire Nation who President Trump invited to join the Trump 100 Club, but we noticed you haven't accepted your offer yet. 87 of the other Patriots invited have already accepted their offer. We're just waiting on you."

The door to that opportunity ultimately closed for me, but not to worry, there were other opportunities.

"Joe, CONGRATULATIONS - You have been formally selected to join the Trump Presidential Honor Roll in recognition of your unwavering support and commitment to President Donald J. Trump. President Trump has always been able to rely on you as a dedicated supporter, which is why we are proud to offer you the exclusive opportunity to join the Trump Presidential Honor Roll. As a member of the Honor Roll, President Trump will be relying on YOU to advise him throughout the coming months on the proper course of action when countering the Left's LIES and deceptions. When he needs guidance, HE'LL TURN TO YOU. Joining President Trump's Honor Roll is absolutely paramount if we're going to secure another FOUR MORE YEARS and keep our Nation out of the hands of BIG GOVERNMENT SOCIALISTS, and that's why we are calling on YOU to step up and accept the offer TODAY. The Honor Roll is a select group and we can only guarantee your spot for the NEXT 3 HOURS before we release it."

Three hours? Who can make such decisions in just three hours? Another opportunity gone. Not just the opportunity, but the hint of a threat, from President Trump himself.

"Joe, each day, my team has given me an updated list of Patriots who have contributed to help us CRUSH our critical April End-of-Month Goal, and each day, I've noticed YOUR NAME is MISSING. Our deadline is at 11:59 PM TONIGHT, and it's going to take EVERY supporter stepping up if we're going to raise another $500,000 by the end of the night. Day after day, Sleepy Joe and his Radical Left-wing MOB are coming after us with their LIES in an attempt to take us down. I can't think of a better way to show them just how WRONG they are than by absolutely DESTROYING our $5,000,000 goal. This deadline is SO important that I've decided to extend your TRIPLE-MATCH offer until 11:59 PM TONIGHT."

Now, if you're feeling depressed that I am considered so important to Donald Trump that he wants me as an close advisor and not you, there are plenty of opportunities to work your way into his good graces. For one, visit the Trump store and get these offers:

"By popular demand, we've just launched our BRAND NEW Trump-Pence 2020 Flags, and we want YOU to have one. We have an extremely limited supply of these flags (less than 500), so we're only reaching out with this offer to a small group of Patriots who President Trump hand-selected as his TOP supporters."

"Have you seen our new product? For the first time EVER, we have launched Official Trump Coloring Books. They are already FLYING off the shelves, and we only have 600 left in stock. Since you're one of President Trump's top supporters, we've reserved one just for you. We can only hold your order for THREE HOURS before we will be forced to release it to someone on our waiting list."

Flags. Comic books. And much more is available at the Trump store. Trump whisky glasses. Trump straws. Trump baby clothes, A Trump puzzle! (irony included). The comic book cover, by the way, is reminiscent of Superman covers, with a flying Trump, fist tightly closed, ready to battle evil, propelled, not by a red cape, but by a long red tie. (no kidding!)

I'm sorry I'm publishing this so late. As a military veteran I was offered a 25 percent discount on all Trump merchandise in a Memorial Day sale. I could have shared that with you. But there will be other holidays and other sales before November. Maybe Trump will include discounts to Trump university.

By the way, how does Trump know I'm a military veteran? You don't think they're illegally using lists from confidential Veterans Administration archives, are they? Just asking.

(Joe Rothstein's latest political thriller, "The Salvation Project," is available from all online book sellers and most independent book stores. Questions or comments? Joe Rothstein can be contacted at jrothstein@rothstein.net)
---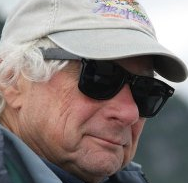 Joe Rothstein is editor of U.S. Politics Today. His career in politics spans 35 years, as a strategist and media producer in more than 200 campaigns for political office and for many political causes. He was a pioneer in professional political consulting and one of the founding members of the American Association of Political Consultants. During his career Mr. Rothstein has served as editor of the Pulitzer Prize-winning Anchorage Daily News and adjunct professor at George Washington University's Graduate School of Political Management. He has a master's degree in journalism from UCLA.
---