Now We Know What Trump means by 'make America great.' We can only shudder at his plans to 'keep' it this way
May 9, 2020

By Joe Rothstein

One of the more memorable political slogans I encountered during my years as a professional campaign consultant was, "When Benny Price promises he'll do something, he does it." Price was a candidate for the state legislature. I remember this because no where in his brochures or other campaign materials could I find anything Benny Price promised to do. No matter, he won.

Which brings me to "make America great again." Do you recall hearing Donald Trump say how he would do that? Drain the swamp? Cut red tape? Get Mexico to pay for a wall? All pretty vague stuff. Trump's 2016 web site was a collection of bumper stickers.

This year, Trump's slogan is "keep America great," implying that during his 3 ½ years as president, his actions have restored America from whatever ailed it. We no longer need wonder what he meant by "make America great again." It's the record he's written, the initiatives he's taken, the actions, not the words. It's a record I'm sure Trump will be proud to run on this year. Here some highlights, in no particular order of importance or chronology:

--Opened the national parks to drilling, mining and private business exploitation
--Allowed coal plants and others to dump mercury and arsenic-laced pollutants into our waterways
--Removed safety regulations required of drillers in the Gulf of Mexico
--Took steps to privatize the postal service
--Turned the consumer financial protection agency and EPA into corporate-friendly agencies
--Moved to eliminate the Peace Corps
--Worked to turn public education into a for-profit enterprise
--Undermined foreign trade and put farmers on public handouts instead
--Undermined the first amendment
--Undermined our military allies and longstanding defense alliances
--Supported dictators
--Worked to suppress the vote because otherwise, he said, Republicans can't win
--Stood with the "very good" people who carried assault weapons and Nazi flags into crowds
--Relentlessly tried to eliminate Obamacare
--Cut food stamps and Medicaid
--Vehemently fought to keep his personal finances and taxes from public review
--Made nepotism the new normal
--Used America's military and financial strength to gain personal political advantage
--Replaced veteran public servants with malleable personal cronies and corporate lobbyists
--Flirted with launching war with Iran (pending)
--Declared war on our long history as a nation of immigrants
--Made truth optional
--Declared "mission accomplished" in the war on covid-19

There's much more, of course. Since Trump is seen by his supporters as one who "tells it like it is," I imagine he will boast about these accomplishments in campaign speeches, TV ads and elsewhere.

Turning to the future, if Trump is reelected what might we expect from "KEEP America great?" If the past is prologue, as they say, some priorities on his agenda likely would be these:

--Complete the conversion of the Department of Justice into Trump's personal law firm
--Turn "lock her up," from a rally chant into jail terms for his political opponents
--Work to loosen libel laws so that he can intimidate and bankrupt news outlets he considers not sufficiently supportive of him
--Have the two-term limit on presidents be declared unconstitutional by his newly stacked right-wing courts
--Finish the wall with Mexico and build one with Canada
--Help the NRA enact state and federal laws requiring everyone to own a gun
--Withdraw from NATO and sign a treaty with Putin to protect Russia from western European aggression

Far out? Unimaginable? Not if you consider what's happened over the past three years. Who would be there to resist? Not a Republican Senate that already has given Trump a green light to do "whatever." Not a Supreme Court with a likely 6-3 or 7-2 right wing majority. Not a Bob Barr Justice Department. Not protestors in the streets. They would be surrounded by a lot of "good people" with AK-15s.

The most difficult problem for Trump in enacting this "keep America great" agenda would be ending the limit on serving two terms. But there would be an easy fall back position. No law would stop Donald Jr. or Ivanka from becoming the 47th president of the United States. Especially if Republican state officials were diligent about scrubbing enough Democratic voters off the registration lists--and Russian intelligence was there to help.

(Joe Rothstein's new political thriller, "The Salvation Project," is now on sale from all on-line book sellers and most independent book stores. Comments? Joe Rothstein can be reached at jrothstein@rothstein.net).
---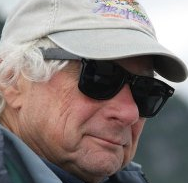 Joe Rothstein is a political strategist and media producer who worked in more than 200 campaigns for political office and political causes. He also has served as editor of the Pulitzer Prize-winning Anchorage Daily News and adjunct professor at George Washington University's Graduate School of Political Management. He has a master's degree in journalism from UCLA. Mr. Rothstein is the author of award-winning political thrillers, "The Latina President and the Conspiracy to Destroy Her," and "The Salvation Project."
---