Pelosi, Sotomayor or Napolitano for Vice President? Why Not?
April 24, 2020

By Joe Rothstein

I'll vote for Joe Biden for president no matter who he picks as his running mate for vice president. Four more years of Donald Trump is too unthinkable to even discuss.

But Michelle Obama? Another family dynasty? Bush/Bush, Clinton/Clinton, Obama/Obama?

I share the general public admiration for Michelle Obama. I also admire Oprah and Stacey Abrams. But what qualifies any of them to be the leader of the most powerful country in the world other than their current popularity? And that's how you have weigh this decision. The Trump experience makes it painfully, dangerously clear that the election of a U.S. president is not a show or a job for an apprentice.

I was never particularly a Hillary fan, but she had the experience of being both a U.S. senator and secretary of state. She had been involved in major decision-making, not merely a witness to it. And in the process, like everyone who gains leadership positions, she had experienced both success and failure. She had endured both enemy and friendly political fire and survived. There's no substitute for the reality of responsibility.

Equally as important as experience is an understanding of how you want to use your presidential powers. Our health care system desperately needs restructuring. Our capitalist system must be wrested back from a greedy finance sector. Our political system is edging ever closer to autocracy. The planet's climate needs immediate life-saving rescue.

Biden's background doesn't suggest he's the best choice to go to the barricades to lead the fight against deeply entrenched interests, but Biden knows how politics and government work from a lifetime of involvement in both. If he becomes president, he will owe his election to a majority of Americans who demand significant structural change. Biden, steeped in politics, will know what that means for his administrative actions and legislative agenda. Especially if one or both houses of congress are in Democratic control demanding significant reforms.

In that environment, Biden needs a partner such as he was to Obama, someone he can depend on to share his agenda, to effectively fight for it, and to help him succeed with it. Elizabeth Warren would be the obvious choice, but that would leave a senate seat for a Republican governor to fill. Amy Klobuchar did not campaign for president advocating Warren's level of structural change, but she, like Biden, is wise to the ways of congress and the lobbying community. She likely would be Biden's dependable and forceful ally, plus a political asset for reeling in Midwest state votes. Kamala Harris would add the electoral advantage of being Afro-American. She's a forceful politician with reasonable, if not deep, background credentials.

While these are the names most often mentioned, I'd like to nominate a few other candidates, respecting Biden's pledge to select a woman.

Nancy Pelosi. No one else you can consider is in her class for knowledge, accomplishment and legislative success. She's 80 years old. But there's no better example of "age is just a number." She continues to do a number on anyone who opposes her. If your goal is to get a tough, controversial agenda through Congress, who better to have on your side? The fact that Republicans have spent a billion dollars trying to portray Pelosi as the embodiment of evil is a distraction, and likely a disqualifying wild card for the Biden team. But I wouldn't rule her out. She has said she will step down as speaker at the end of this year. So, she's available.

Sonia Sotomayor. Want to consolidate the Latinx vote to win Florida, Arizona and possibly even Texas? Not only does she have unassailable stature, she has a lively personality that would add charisma to the Democratic ticket. Her backstory—-child raised by a struggling single mother---is the stuff of potentially inspiring political media. What does she know about government aside from the law? She would need a crash course. But having been immersed in constitutional questions such as free speech, privacy, executive powers and the like, she would have a running start. As a bonus, Biden could fill Sotomayor's supreme court seat with a younger progressive.

Janet Napolitano. Former cabinet member as secretary of the Department of Homeland Security, former governor of Arizona, former Arizona state attorney general. In August she will retire as president of the University of California. How's that for a strong executive resume at both the state and national levels? And leader of of one of the nation's premier university systems. In her spare time, her hobbies are whitewater rafting and hiking. She's even climbed Mt. Kilimanjaro. Napolitano would be about as an informed and solid a pick as Biden could make, and almost guaranteed to deliver Arizona to the Democrats.

We don't know who, among his world of contacts, Biden feels most (or least) comfortable working with. His vice-presidential selection is a legacy marriage. In addition to being historic and politically crucial, it is personal. But at a time when post-covid-19 structural change is an imperative, his choice must be one willing and capable of helping him fight entrenched interests to restore capitalism to a level playing field and the social contract to a place that's been lost over the past few decades.

This is not a casting call. It's the selection of a strong partner in a call to arms.

(Joe Rothstein's new political thriller, "The Salvation Project," is now available from all on line book sellers and most independent book stores. Comments or questions? Joe Rothstein can be contacted at jrothstein@rothstein.net).
---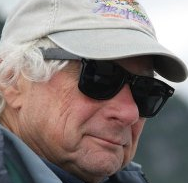 Joe Rothstein is editor of U.S. Politics Today. His career in politics spans 35 years, as a strategist and media producer in more than 200 campaigns for political office and for many political causes. He was a pioneer in professional political consulting and one of the founding members of the American Association of Political Consultants. During his career Mr. Rothstein has served as editor of the Pulitzer Prize-winning Anchorage Daily News and adjunct professor at George Washington University's Graduate School of Political Management. He has a master's degree in journalism from UCLA.
---