If Election History Is A Guide, Warren and Sanders ARE The Political "Center"
November 18, 2019

By Joe Rothstein

When President Obama warned Democrats the other day against moving too far "left" in selecting the party's 2020 nominee he joined a growing chorus of voices concerned that by choosing Elizabeth Warren or Bernie Sanders the Democrats might spoil their chances of defeating Donald Trump.

Left, right, center is the shorthand most often used by pundits to describe politics and politicians. From that perspective, it's a given that being a "centrist" is good politics. Leaning moderately "left" or "right" is acceptable. Being "far left" or "far right" is politically dangerous.

Let's test that against recent political history.

In 2008, Republicans selected John McCain as their nominee. In a large field of Republican primary candidates, McCain was seen as the choice closest to the center, and therefore the candidate most likely to succeed. The Democrats, on the other hand, passed up a number of established "left of center" candidates to nominate Barack Obama. At the time, Obama was the riskiest choice they could make-—not just because he had the thinnest resume and was an Afro-American, but because his agenda promised serious reforms. "Hope and Change!" Remember? In November, those expectations of major change defeated McCain's theoretically more acceptable "right of center" campaign.

Two years later voters again did something unexpected. They gave a landslide victory to what was then called the "Tea Party." Tea Party. You know, recalling the radical act identified with one of the most revolutionary protests in American history.

In 2012, the Republican Party nominated Mitt Romney, the most established "right of center" choice. They lost, and in the aftermath of that election the GOP performed a post-election autopsy in an effort to understand why. The conclusion: the party needed to beef up its appeal to centrists. But when the 2016 primary votes were counted the two leading candidates were the two most politically extreme candidates—-Donald Trump and Ted Cruz. On the Democratic side, the party establishment put a heavy thumb on the scale to nominate Hillary Clinton as a safe "left of center" standard bearer, rejecting Bernie Sanders. The political class considered Sanders unelectable. Too "far left."

I realize this is a simplistic version of recent political history. The times, the personalities, the skill of the campaigns and many other factors determine election outcomes. But the choice of Obama, and then Trump, telegraphs an important message that most political pundits seem to be missing. The most "centrist" candidates in the past three presidential cycles have been losers. Obama actually governed as a centrist, but Republicans spent a billion dollars in 2012 trying to convince voters that he was a dangerous far left radical.

The depiction of U.S. politics defined by left-right-center makes little sense. Many voters consider themselves economically conservative and socially liberal. Others accept global warming as a threat but also join right-to-life rallies. Immigrants from Mexico and Central America, by and large, are Catholics and socially conservative. But they support a larger role for government in health, education and work place issues. Where's the logic in trying to shoehorn a quarter billion voting Americans into three ideological boxes? Certainly not as a predictor of election results.

So what HAS been driving election results? What explains a victory for a change agent like Barack Obama in 2008 and then replacing him with an even more unconventional change agent like Donald Trump in 2016?

The answer seems obvious: Frustration that the political process is not effectively addressing real problems: health, education, job security, financial opportunity, retirement prospects. For tens of millions of Americans health care is a crisis, not just a political issue. For 40% of retirees, Social Security is all that stands between sustainability and a soup kitchen. Unemployment rates are low, but so is income. Personal debt is at record levels. Company retirement pensions are history. Tack on to all of this economic insecurity a long list of political failures in areas such as gun safety, climate change and infrastructure improvements.

When Obama issued his warning about not leaning "too far left," he also added, "The average American doesn't think we have to completely tear down the system and remake it."

What's wrong with that message is that many average Americans believe the country, and their own lives and future prospects, already have been torn down. Voters are leery of candidates who do not understand that, and who do not show enough fighting spirit to take on the tough job of fixing it.

That explains Elizabeth Warren's rise from 4% when she announced for president to 20% or so now. It explains why Bernie Sanders maintains his following despite his age and health concerns. It explains why Trump, even with his bottomless well of personal flaws, lured 60 million people to vote for him, and why he will keep much of that support until there's a convincing alternative.

If there is a political "center" today it aggregates around those who are searching for leaders who both understand the realities of middle class life and seem strong enough and trustworthy enough to turn things around.

(Joe Rothstein's latest political thriller, The Salvation Project, is now available on line and may be ordered in bookstores everywhere.)
---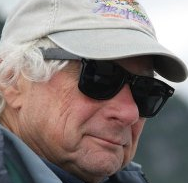 Joe Rothstein is editor of U.S. Politics Today. His career in politics spans 35 years, as a strategist and media producer in more than 200 campaigns for political office and for many political causes. He was a pioneer in professional political consulting and one of the founding members of the American Association of Political Consultants. During his career Mr. Rothstein has served as editor of the Pulitzer Prize-winning Anchorage Daily News and adjunct professor at George Washington University's Graduate School of Political Management. He has a master's degree in journalism from UCLA.
---