Bloomberg Could Tip It to a Brokered Convention
Will Mike Bloomberg be the Democratic nominee for president? Unlikely. But he doesn't need the nomination to be a hero to the billionaire class. A Bloomberg candidacy makes sense if you consider it a way to keep the nomination from going to either Elizabeth Warren or Bernie Sanders. Follow this logic:
To win the nomination on the first ballot, a candidate will need the votes of 50%+1 of the 3,769 delegates locked in and pledged through the primaries. If no one tops that hurdle and a second ballot is necessary, under the new Democratic party rules super delegates will be permitted to vote. That adds 765 voters to the total. Those would be the votes of Democratic Party leaders, office holders, and some past office holders. Essentially, what passes for a Democratic Party establishment.
That's a cohort that's voiced little enthusiasm for the structural change both Elizabeth Warren and Bernie Sanders want to pursue. And many Democratic Party insiders have not been shy about their doubts that Warren or Sanders could defeat Donald Trump. If neither Warren or Sanders wins a first ballot vote, their prospects are not likely to improve on a second.
Ironically, 765 super delegates is about the same number of U.S. billionaires, many of whom are fearful that a Warren or Sanders WOULD defeat Trump. They would gladly take anyone else—Biden, Harris, Buttigieg, Klobuchar, Booker, Steyer-—pretty much anyone other than Warren or Sanders. So, an obvious and realistic strategy for the billionaire class concerned about Biden's chances is to see that when the Democratic Party convention shows up in Milwaukee July 13, it arrives with no consensus candidate packing enough pledged delegate votes to win the nomination on the first ballot.
And the delegate selection process is fair game for that kind of manipulation.
Each state is allocated a specific number of delegates based on population and past election presidential voting. But these are not winner-take-all presidential primaries. All delegates will be awarded proportionately to candidates who win at least 15% of the vote. Some delegates will go to those who pass that threshold statewide. Most will be allocated to candidates who win 15% or more of the votes in individual congressional districts. For example, in California, there's a 90-delegate prize to be divided by candidates who can command at least 15% of the statewide vote. But 272 delegates will be awarded district-by-district in California's 53 congressional districts.
So a candidate who doesn't have the resources to compete statewide in California might focus on one or two media markets, maybe just Los Angeles, or just San Francisco, or even smaller markets where the campaign can reach two or three congressional districts. A candidate such as Julian Castro, for example, could target all of his resources into districts with large Latinx voting populations, win 15% or more of the vote there, and emerge with delegates, even though he's running far behind in national polling and is unable to financially compete in the table stakes competition for California's statewide vote.
Currently, only three Democratic candidates consistently clear the 15% mark in polling: Joe Biden, Elizabeth Warren and Bernie Sanders. But that's just in national polling. In Iowa, Pete Buttigieg appears also to be in the running for delegates. Kamala Harris has pivoted most of her resources to Iowa to compete at that level as well. In the current state of the race, all five have reasonable prospects for winning at least 15% of the votes where they campaign seriously.
In February, Iowa, New Hampshire, Nevada and South Carolina will vote, and they are getting the most public attention. Combined, that's 193 delegates. But on March 3, more than 1,600 delegates will be chosen, including 495 from California and 262 from Texas. That's 14 separate statewide campaigns and 172 congressional district campaigns, plus delegates from Samoa and U.S. citizens living abroad.
Strategists in each campaign, you can be certain, are analyzing where to funnel their resources to pick up the most delegates with the least expense. And they are doing this on a congressional district-by-congressional district basis. Of the 3,769 delegates who will emerge from the primaries pledged to a candidate, 2,591 will be selected from district voting, not statewide. That's why most of the early who's-ahead, who's-behind statewide polling is a weak predictor of where we will be next spring.
Now, add Bloomberg, and perhaps fellow billionaire Tom Steyer to the ballot and the strategies of the other candidates are seriously upended. Bloomberg can afford to flood advertising into media markets everywhere. His campaign can observe where opposition efforts are too strong for him to make a dent and so thin that he can swamp targeted congressional media markets with his own messaging. And, of course, he can advertise heavily everywhere in California, Texas and simultaneously in twelve other March 3 primaries while no one else in the race can.
The object isn't necessarily to win, but to exceed the 15% threshold in enough states and congressional districts to accumulate delegate votes. Each delegate Bloomberg wins is one that keeps any other candidate from capturing the nomination on the first ballot.
Billionaires for Bloomberg doesn't sound like a great bumper sticker idea. But if this billionaire can use his great wealth to protect himself and his fellow billionaires from Elizabeth Warren and Bernie Sanders he will be a hero to his rarified class.
(Joe Rothstein is a veteran political consultant and author of the acclaimed thriller, The Latina President and The Conspiracy to Destroy Her. His new novel, "The Salvation Project," has just been released. For more, go to
www.joerothstein.net
)
---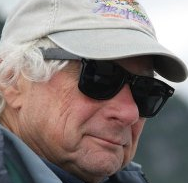 Joe Rothstein is editor of U.S. Politics Today. His career in politics spans 35 years, as a strategist and media producer in more than 200 campaigns for political office and for many political causes. He was a pioneer in professional political consulting and one of the founding members of the American Association of Political Consultants. During his career Mr. Rothstein has served as editor of the Pulitzer Prize-winning Anchorage Daily News and adjunct professor at George Washington University's Graduate School of Political Management. He has a master's degree in journalism from UCLA.
---