Could Trump Actually Resign? Four Reasons Why It's Possible
How does it end? In this unpredictable political environment I'm not making predictions. But I do know that most people in politics nearly always make decisions based on what they see as their enlightened self-interest.

It's in Donald Trump's enlightened self interest not to go from the White House to the court house, to prison. Equally important, he does not want to see the Trump brand destroyed by becoming completely toxic to a large swath of potential customers the world over.

Mitch McConnell is the most important player in deciding how this all ends. And prospects for McConnell's self-interests--his own reelection and GOP control of the Senate--would vastly improve with Trump's quick departure.

Let's see how these interests might play out.

McConnell is facing his most serious election challenge ever. His likely opponent, Democrat Amy McGrath, outraised him in campaign contributions during the last reporting period. She's collected more than $10 million, even though she just entered the race in July. McConnell's contributions during the same period: $7.5 million. McGrath's report showed contributions from all 120 Kentucky counties, with an average contribution of just $36.

One more set of numbers that must be jarring for McConnell. The latest Morning Consult poll pegs him as one of the least popular senators among his own constituents. His favorable/unfavorable numbers: 37-50. Ninety-five other senators have better current report cards. Repeat: these are not national poll numbers. These are Kentuckians grading their own senator.

In 2018, Amy McGrath came within a few percentage points of unseating a Republican congressman in a very conservative Republican district. McGrath is a formidable opponent. She was the first female Marine fighter to fly the F/A-18 on a combat mission. During her 20 years in the Marine Corps she flew 89 of those combat missions. McGrath won the Democratic Party primary in 2018 by defeating the mayor of Lexington and carrying 18 rural counties. And she did that as a pro-choice candidate, supporting climate change measures, defending the right of gay and transgender people to serve in the military, opposing the repeal of Obamacare, and opposing Donald Trump in a state that overwhelmingly voted for him. She even canceled her NRA membership.

Mitch McConnell has his hands full just keeping his own Senate seat in 2018. And even without a looming impeachment vote, enough Republican seats are vulnerable to make continued GOP control of the Senate very much in doubt. The most vulnerable of those Republican senators are facing no-win choices in a Senate trial of Donald Trump. Vote to oust him and they almost certainly lose Republican support in their home states. If they vote to keep him in office, they own him, carrying all of his baggage into their own reelection campaigns.

For McConnell's own reelection prospects, and for his chances of remaining majority leader, it would be far better for Trump to go away, to resign, to reset the political table for 2020.

But why would Trump resign? For that, let's return to where we started with this analysis—self interest. There, the case for resignation is stronger than you might think.

First, like Nixon, he could extract a pledge from his vice president that on taking office Pence would pardon Trump of all former, current, and maybe even future criminal charges. That would remove a huge risk facing Trump should he run and lose. States could still bring charges against him, but the pressure would be off and further pursuit of him would fall into a manageable range.

Next, it would help save the Trump brand. A billion dollars would not be spent in 2020 to increase the odor around his name. The damage could be contained.

Third, and not to be discounted, Trump raised more than $100 million for his campaign in the third quarter. What happens to that money if he resigns? As a federal candidate he can 1) donate it to other candidates (ha), 2) return it to donors (ha, ha), 3) contribute it to charities (bingo). Yes! He can set up another charity and control not just what remains when his campaign ends, but all the money he surely would raise afterward from his disciples. Which leads us to reason number 4)

In today's email I received a message from "buildingyourmovement.com," encouraging me to tune into "Trump TV." Attached to the email was a video lying about Joe Biden's role in Ukrainian corruption. Trump TV. Get used to it. One thing I will predict is that if not now, later, Trump will start his own media company. Imagine, a media network Trump controls, where no one edits his talk shows, where he can sell his Trump hats and wine, and little red books of Trumpian wisdom, where he can raise money for an unlimited number of schemes. And where he can attack anyone in the name of uprooting the "deep state."

We need one more key figure in this scenario to complete the loop: Mitt Romney. Romney must be the catalyst for rounding up 20 GOP senators who will agree to vote to remove Trump as president in advance of an impeachment vote. Twenty senators who could survive angering Trump's base. Senators already vulnerable in their home states and needing votes from Democrats and independents. Senators who are retiring with this term. Senators so entrenched in red states they need not fear competition. Mormon senators, like Romney, whose religion doesn't readily accept Trump's outrages. That would give McConnell what he needs to tell Trump that his only choices are to resign with a favorable deal or be voted out of office, now, with multiple criminal actions waiting for him when he steps outside the White House, and with no guarantees about his future.

Mike Pence then would become president. But because Trump has strong armed state Republican parties to cancel their primaries, the field is wide open for a challenge to Pence. Romney would likely enter the race. For Democrats and independents, Romney would be the man who got rid of Trump. Trump loyalist Republicans, after a brief hissy-fit period, would see Romney as their only choice to save the White House and the Senate. Romney likely would emerge as the front runner and vulnerable Republicans would not need to run as Trump surrogates, improving their chances for survival. The entire 2020 election picture would be upended.

Would a Trump-less Republican party heal its wounds quickly enough for such a transformation? In the effort to to make that happen, Romney would have a powerful ally: The Republican National Committee, which, like Trump's campaign, has already raised more than $100 million, and whose chair just happens to be Romney's niece, Ronna McDaniel.

(Joe Rothstein is a veteran political consultant and author of the acclaimed thriller, The Latina President and The Conspiracy to Destroy Her. His new novel, "The Salvation Project," will be released in November).
---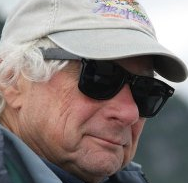 Joe Rothstein is editor of U.S. Politics Today. His career in politics spans 35 years, as a strategist and media producer in more than 200 campaigns for political office and for many political causes. He was a pioneer in professional political consulting and one of the founding members of the American Association of Political Consultants. During his career Mr. Rothstein has served as editor of the Pulitzer Prize-winning Anchorage Daily News and adjunct professor at George Washington University's Graduate School of Political Management. He has a master's degree in journalism from UCLA.
---