Red Country. Blue Country. Trump Has Expanded The Election Map
Red country. Blue country.

We once considered U.S. elections sacrosanct. Now Donald Trump has invited the world into the U.S. election system.

The first to accept that invitation, appropriately, was the former communist country we used to call the "Reds." Putin delivered for Trump big time in 2016, and he's reaped huge rewards: The weakening of the NATO alliance that restrained the Soviet Union's expansionist dreams for nearly half a century, and since then has kept Putin's Russia at bay. The undermining of the global trading community that has excluded him since his invasion of the Ukraine. An opportunity to build a power base in the middle east to fill the vacuum created by Trump's isolationist foreign policy. And perhaps the biggest prize of all, a deeply divided and uncertain America abandoning leadership of the free world and seemingly unable even to govern itself.

If Putin had been high rolling at one of Trump's former casinos he could not have come away with a larger jackpot.

But Russia's not the only red state on Trump's map.

North Korea gets to test its missiles and other weapons with impunity, merely by sending love letters to Trump. Saudi Arabia can literally get away with murder, in Yemen and even in its Istanbul embassy. Netanyahu's Israel gets a blank check to abandon any semblance of cooperation with the Palestinians. Filipino President Rodrigo Duarte gets embraced, despite the extra-legal murdering of thousands. Poland's autocratic leader gets the U.S. to remove visa entry requirements. Why wouldn't leaders of these countries want to see Trump re-elected?

Who, then, would we color blue?

Germany, most certainly. Angela Merkel has had the temerity to confront Trump's nonsense. And France, where Emmanuel Macron makes no secret of his disdain for the U.S. president. Let's add Canada, a country we used to think of as family, but who under Trump has been a target of constant abuse. We probably should add Japan to this list. It's hard to imagine Japanese leaders remaining comfortable as long as Trump is romancing North Korea.

What about the British? It depends. Under Teresa May, England most definitely would be a blue country. Trump did nothing but rub raw already existing British political wounds. But now the Brits find themselves with a prime minister who himself is a divider of the first order. For the time being, let's color Great Britain purple.

Mexico? Trump's biggest punching bag? Also hard to categorize. Mexico just elected a leader who appears to be determined to end corruption, help the poor and middle class, and restore its weakened economy. Unlike Trump, he seems to really mean it and know what he's doing. Probably blue. But some cross hatches on this chart.

China? China does its own thing, and has, mostly, for thousands of years. Under Xi, China's goal is to make this the Chinese century. A weakened U.S. would definitely be an important part of that strategy. On the other hand, the Chinese didn't grow from economic basket case to the second largest economy in the world over a few decades by being stupid. And facing a stupidly-run America certainly must be unsettling. Like most things Chinese, let's just say their 2020 preference in the U.S. election is inscrutable.

When India's Prime Minister Narendra Modi visited Texas recently Trump made it a point to be there, and even to hold hands with him entering a stadium crowded with tens of thousands of mostly Indian-American supporters. That would lead you to believe that India should be in the red column. That, and the fact that Modi also is into mass persecution of minorities and using his troops to invade a militarily weak Kashmir.

I wouldn't be so sure, though, that Trump would be comfortable with us listing India as a red country. After all, it's filled with brown people. Trump already has told us how he feels about brown people, and black people, and, ironically, even red-skinned people.

If we're going to start building blue country/red country political maps for our elections, we need to think about such things. Before Trump we believed in American elections for Americans First. And only. Now Trump has created an entirely new field of political analysis.

(Joe Rothstein is a veteran political consultant and author of the acclaimed thriller, The Latina President. His new novel, "The Salvation Project," will be released in November).
---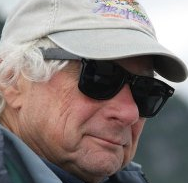 Joe Rothstein is editor of U.S. Politics Today. His career in politics spans 35 years, as a strategist and media producer in more than 200 campaigns for political office and for many political causes. He was a pioneer in professional political consulting and one of the founding members of the American Association of Political Consultants. During his career Mr. Rothstein has served as editor of the Pulitzer Prize-winning Anchorage Daily News and adjunct professor at George Washington University's Graduate School of Political Management. He has a master's degree in journalism from UCLA.
---