Moderate Republicans: Throw Away Your Crying Towels and Get Into This Fight
Check in with nearly any Democratic Party or progressive group and you will find unprecedented enthusiasm and activity focused on trying to win the 2020 elections. Look in on any Donald Trump political rally and you will see big and raucous crowds,and legions of supporters ready to man the barricades to defend Trump and his supporters in Congress. Blue states. Red states. The political hive is really buzzing.

But something's missing.Or, more accurately, a whole lot of people are missing---Republicans and Republican-leaning independents who haven't bought into Trump world. People who had no reservations voting for John McCain or Mitt Romney or George W. Bush but consider Trump an embarrassment,if not a danger. Republicans who believe in balancing federal budgets and who don't question the value of military alliances and global trade and who consider unethical and immoral behavior disqualifying backgrounds for public office.

They are the political homeless, sitting on the sidelines while an epic battle is being fought to determine America's future.

A sizable block of Americans who consider themselves moderate Republicans have lost control of the Republican Party. Can they ever get it back? Of course they can get it back. They just need to do what the Democrats and the ardent Trump supporters are doing. They need to get into the fight.

Progressives are challenging Democrats they consider too conservative. Third Wave and other groups are fighting to replace Democrats they consider too liberal. Trump supporters are not shy about frontal attacks on Republican incumbents they find less than enthusiastic about Trump. But where are the moderate Republicans when it comes to ousting the radicals who have morphed into Trump clones?

Ah, you say. Mark Sanford challenged Trump but it cost him his South Carolina House seat. And another Republican Trump critic, Jeff Flake, had to forgo reelection to the Senate in Arizona because of the backlash to his criticism of Trump. Isn't it political suicide to stray from the Trump line if you wear an R on your sleeve? The answer to that dilemma depends on where and how you do it.

Consider Indiana's eighth district and its congressman Larry Bucshon, an all-in Trump supporter. In 2018 Bucshon won the district's GOP primary with 63% of the vote. Sounds formidable. That's until you see that his winning vote total was just 34,516.

Here's the thing about primary elections. Hardly anyone votes. In a typical year the total primary vote in most states is likely to draw 30% or fewer of all those registered. Divide that by two political parties and you might have no more than 15% taking a Democratic or Republican ballot. Divide again by 2, 3 or 4---however many candidates are on the primary ballot---and the winning total not uncommonly is 5 to 10% of the party's registered voters. In a district gerrymandered to guarantee one or another party a win, the primary is really the general election.

Take a look at those congressional maps that show solid red and a surprising number of them are represented by members just like Bucshon in Indiana, candidates who won their Republican primaries with fewer votes than it often takes to elect a mayor of a small city.

Most congressional districts represent about 700,000 people. In many of those districts it's difficult for a member of a Congress to get much visibility because of the way media markets are structured and because of competition for attention from statewide office and municipal office holders. It's rare in polling to find members of congress who are universally known and have established deep connections to voters.

So let's revisit a moderate Republican strategy for recapturing their party. We're now up to about 20 Republican members of Congress who won't be running for reelection. There's likely to be many more. Most of those seats are in safe Republican districts. Winning the primaries will insure winning in November. Most of the candidates in these districts will be new to the voters. What an opportunity for credible moderate candidates, with big bankrolls and professional campaigns to knock off radical primary opponents. Not by winning the debate over who kisses Trump's feet, but by being savvy enough to identify and win over a small fraction of voters who are window shopping for someone new to support.

And then there are congressional districts such as Indiana's eighth, plenty of them, where a five-term congressman can't muster more than 34,516 votes against two underfunded opponents in the Republican primary. The situation screams opportunity.

Maybe moderate Republicans have their own version of the Democrats' Move On or Third Way already in the field, raising money, identifying races where opportunities are ripe and recruiting strong candidates. If they don't, shame on them. The Republican party isn't going to fix itself. As long as it's in the tight grip of a movement antithetical to what we always considered American values, and Republican values, we're all at risk.

Democrats can't fix this. Only moderate Republicans can. They need to throw away their crying towels and get into this fight.

(Joe Rothstein is a veteran political consultant and author of the acclaimed thriller, The Latina President. His new novel, "The Salvation Project," will be released in November).
---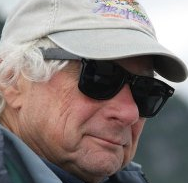 Joe Rothstein is editor of U.S. Politics Today. His career in politics spans 35 years, as a strategist and media producer in more than 200 campaigns for political office and for many political causes. He was a pioneer in professional political consulting and one of the founding members of the American Association of Political Consultants. During his career Mr. Rothstein has served as editor of the Pulitzer Prize-winning Anchorage Daily News and adjunct professor at George Washington University's Graduate School of Political Management. He has a master's degree in journalism from UCLA.
---