No chance Senate Republicans will vote to remove Trump from office? Don't be too sure.
Republicans got clobbered in 2018 by an energized Democratic party reinforced by large swaths of independents essentially voting against Donald Trump. That political storm is likely to be even more intense in 2020.

Many House Republicans think so. Thirteen already have thrown in the towel for reelection. More are expected to follow them out the door. In the Senate, where GOP incumbents are not protected by politically-friendly district lines, Republicans face a much tougher line-up of state matches than they did in 2018.

Every Republican on the 2020 ballot will run under Trump's shadow if Trump remains in office. That would be helpful to GOP candidates in some states and House districts. In plenty of others it would be a heavy anchor. And if you are a Republican House or Senate member and survive in 2020, what do you get with two-term Trump in the White House? A president who feels vindicated and less restrained. A president who already has made hash of what once defined the GOP: free trade, fiscal prudence, military alliances, executive branch restraint. And add to all that a continuation of the reign of political terror he exerts over any Republican who dares to criticize him or fails to grovel at his feet.

Not much of a prize, is it?

Now consider the alternative. A President Pence. Reliable conservative values minus the fear and drama. A new guy on the job you can campaign with in 2020 without embarrassment. A strong, and perhaps winning message to independents and moderate Republicans: "We removed the guy you didn't like. We did our job. Now give the new guy a chance."

What metaphor suits you? Whole new ball game? Brand new deck of cards?

Certainly, the removal of Trump from the White House would re-scramble a 2020 campaign environment that for Republicans now looks pretty scary.

If all that seems reasonable, it's also reasonable to say, "so what?" The Republicans in Congress have been gutless for nearly three years. Why would 20 Republican senators turn on Trump now and join 47 Democrats for the two-thirds majority needed to remove Trump from office?

Well, let's begin with Cory Gardner, senator from Colorado. The latest poll shows him behind 53-40. He represents a state where Trump's favorable/unfavorable numbers are 39-57. That's a number from August. It's not going to be better post-Ukrainian revelations. How does Gardner vote to save Trump without killing his own political career?

Turn to Pennsylvania. Pat Toomey's running for reelection in a state where Biden is running 10 points ahead of Trump. Iowa. Joanie Ernst must overcome a Trump who's down 44-53. Susan Collins already is carrying a 13-point negative Trump poll on her back. In Arizona, Martha McSally is running 5 points behind former astronaut Mark White. Trump's numbers are 46-50, a 24-point drop in favorability for Trump in a state that he carried.

Who else might break ranks? Ben Sasse of Nebraska, who already is critical of him. Tim Scott, the only GOP African-American in the Senate. Scott would have a hard time justifying support to a constituency where Trump's favorability is near zero. Both Marco Rubio and Ted Cruz could see an opening to jump into the 2020 race themselves. Georgia's Johnny Isakson is retiring at the end of 2019. He has nothing political to lose.

An anti-Trump movement among Republican senators would need a catalyst, someone to lead the way. That's obviously Mitt Romney. He has the national stature. He's already on record as "deeply troubled" by the Ukrainian revelations. And he's from a state where Trump's support is down 26 per cent since he was elected. Could Romney see in Trump's fall an opportunity for his own White House dream to rise again?

For the final push to get to 20, you have to consider whether Mitch McConnell himself would quietly green light votes from GOP senators who represent states where they would face little retribution: Murkowski of Alaska, Portman of Ohio, Lamar Alexander, Tennessee, the retiring Mike Enzi from Wyoming. Why would McConnell do that? Because more than anyone else in the Senate he has had to deal with the wrecking ball of a president in the oval office. And as a political master, McConnell sees the danger of losing control of the Senate if Trump's still on the ballot.

Will all that happen? My crystal ball is no sharper than others. All I'm suggesting is that once the House impeaches, a lot of Republican senators will need to assess where their own political interests lie. With a badly wounded Trump who they all know is totally unfit to hold the power of the United States in his flailing hands? Or with a new political environment, a new deck of cards, a whole new ball game. Pick your metaphor.

An impeachment trial requires each senator to walk to the speaker's well on the senate floor and announce his or her vote. And then own it. That decision, how to vote, will be much tougher for many Republicans than it now appears.

(Joe Rothstein is a veteran political consultant and author of the acclaimed thriller, The Latina President. His new novel, "The Salvation Project," will be released in November).
---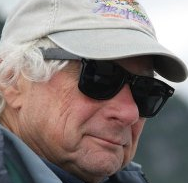 Joe Rothstein is editor of U.S. Politics Today. His career in politics spans 35 years, as a strategist and media producer in more than 200 campaigns for political office and for many political causes. He was a pioneer in professional political consulting and one of the founding members of the American Association of Political Consultants. During his career Mr. Rothstein has served as editor of the Pulitzer Prize-winning Anchorage Daily News and adjunct professor at George Washington University's Graduate School of Political Management. He has a master's degree in journalism from UCLA.
---