Here's My List of Leaders I'd Most Like to See President. What's Yours?
Travel back to January, 2014. You're in a conversation about the 2016 presidential election. Someone predicts that Donald Trump will be the Republican nominee. Ha, ha, ha. Someone else expects Bernie Sanders to pose a serious challenge to Hillary Clinton. Ho, ho, ho.

Clear message: It's futile to make long term judgments in an environment as volatile as today's politics.

Now, properly chastened about what most of us wrongly believed two years before the 2016 elections, let's return to 2018. Democrats are in a sweat about who their presidential candidate will be in 2020. Mostly what I hear is lament. Who do we have?

Who do we have? In a nation rich with astoundingly competent educators, scientists, current and former federal, state and local public officials, labor and business leaders, Nobel Prize winners, Rhodes Scholars, economists, historians and others who have helped turn a nation with five percent of the world's population into the world's richest and most dominant society?

Who do we have? On the face of it, that's a ridiculous question. The challenge is overcoming the obstacles of a flawed electoral system to entice the best among us to run.

You want some candidates? Ten come immediately to mind. All ten fit what I see as essential criteria for a candidate worth supporting: Demonstrated competence and leadership ability; willingness to advocate and fight for major change; the commanding presence to win those fights; and, most important, electability.

One more thing. After Trump, for most voters, amateur night will be over. Serious people with seriously admirable life experience will be in demand. Life experience means age. Voters no longer seem concerned whether a candidate is 70 years old, or even older. It didn't hamper Reagan, or Trump, or for that matter, Hillary Clinton. I'm not letting it bother me here, either.

I'll start my list with the three most obvious names on the Democratic leader board: Bernie Sanders, Elizabeth Warren and Joe Biden.

Sanders deserves to be there because he's leading a movement for change that's recruited millions of active followers and contributors and his issues are almost all universally popular with U.S. voters.

Warren almost single handily forced Congress to enact significant consumer protections against the rampant greed and fraud-prone financial industry. In the Senate, she's been a clear and fearless tribune in the deepening struggle of people against the oligarchy.

Biden deserves to be there because few others in public life have as much time and experience in the halls of political power. Biden's experience spans foreign and economic policy and our system of justice.

Flaws? Certainly. Sanders and Warren both have been something of political loners, defining the fringes of the liberal agenda. As president, either of them would need to mobilize votes from former colleagues to move that agenda, skills neither has yet demonstrated. Biden is still carrying the scars of the Anita Hill-Clarence Thomas confrontation and other choices he's made in a lifetime of public decision-making. The Obama connection could well be an anchor rather than an asset.

Yes, they have flaws. So does everyone else on my list. So does everyone who will run for president, and whoever has run for president. Exposing flaws is endemic to the American political experience. Accept it. We're looking for someone to challenge the most flawed president in U.S. history.

Not enamored with Sanders, Warren or Biden? How about California Governor Jerry Brown? No governor in America has been a more successful, creative or aggressive change agent during the past 8 years than Jerry Brown. No one can match his experience at all levels of government. Twice a governor of our most populous state. Former attorney general. Mayor of Oakland. You could hardly dream up a more complete resume, or a more successful one.

Another choice? University of California President Janet Napolitano. Former Arizona governor. Former Secretary of Homeland Security. Currently leading major initiatives in scientific research, climate change, immigration, agriculture. A proven leader, successful in a broad variety of challenges.

Vermont's other senator, Patrick Leahy. Leahy is the longest serving member of the Senate. When Democrats are in the majority, he is third in line to become president. For 34 years he has led and supported an agenda that includes criminal justice reform, abortion rights, opposition to the Iraq war, expanded health care and other important liberal positions. He is the very definition of humane policy advocate and quiet competence.

Want someone from the American West? Take a look at former two-term Montana Governor Brian Schweitzer. An irreverent, creative leader of a normally Republican-voting mountain state. When the Republican legislature failed to authorize money for his office, he set up a card table in the Capitol and said he was open for business. One year he vetoed 74 Republican-passed bills, some with a hot branding iron on the steps of the Capitol. Clever, charismatic and successful where Democrats usually are not.

I've also been an admirer of former New Jersey Senator Bill Bradley. He ran unsuccessfully for president in 2000. Still active in the finance world. A professional basketball icon from his 10 years as a New York Knick. An honorary doctorate from Oxford. Rhodes scholar. As senator, leader of a bi-partisan tax reform measure that helped secure Social Security.

Looking for authenticity. Think about former Michigan Senator Don Riegle. He switched parties and became a Democrat in protest to Nixon's extension of the Vietnam war. He filed one the first resolutions to impeach Nixon. He won in Michigan with more votes than any Democrat in history. As Chairman of the Senate Banking Committee Riegle spearheaded reform of savings and loan industry abuses.

Accomplishments? Former Iowa Senator Tom Harkin led the successful fight to pass the Americans With Disability Act, which has improved the lives of tens of millions of Americans. Harkin was instrumental in developing and funding the Center for Disease Control into the world's leading bulwarks against pandemics.

My list of 10 includes leaders I know or know enough about to feel secure with their moving into the White House. They also have age in common. I'm in their demographic, and the longer I live the more partial I become to leaders with the maturity, experience and breadth of knowledge that often comes packaged with longevity.

But these are just 10 names of the the tens of thousands of competent leaders from all walks of life who together make the U.S. the great nation that it is. I have mine. I'd like to hear from you with yours. Just don't tell me we don't have a candidate equal to the job of cleaning up the damage being left by the mindless moral midget who's now defiling the White House.

(Joe Rothstein is a regular columnist for USPoliticstoday.com and author of the acclaimed political thriller "The Latina President and the Conspiracy to Destroy Her." Mr. Rothstein can be contacted at joe@einnews.com).
---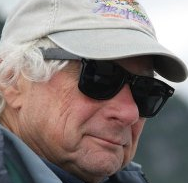 Joe Rothstein is editor of U.S. Politics Today. His career in politics spans 35 years, as a strategist and media producer in more than 200 campaigns for political office and for many political causes. He was a pioneer in professional political consulting and one of the founding members of the American Association of Political Consultants. During his career Mr. Rothstein has served as editor of the Pulitzer Prize-winning Anchorage Daily News and adjunct professor at George Washington University's Graduate School of Political Management. He has a master's degree in journalism from UCLA.
---