Trump's Like An Arsonist, Setting Fire To Everything Good and Decent About America
As I write this, fires are burning in multiple Southern California locations, endangering many neighborhoods and communities, taxing the resources available to fight them. Given current conditions, there could be more destructive blazes. There's no way to predict where or when another fire may ignite, upending lives for countless people in its path.

What an apt metaphor for what's happening in Trump's America.

It seems as if every day Donald Trump and his congressional Republican enablers have torched another community of interest, another bedrock principle of democracy and morality, forcing those affected to fight back with all resources available. You can hardly think of a facet of American life being spared from assault.

A vital children's health program on the verge of being shut down. Public education being undermined while for-profit schools are promoted. Renewable energy support being cancelled while billions are shifted into propping up carbon fuels. The country's most basic health program under attack by those assigned to administer it. A consumer protection agency turned into one that protects those guilty of abusing consumers.

A House speaker who for years has been determined to cut Medicare and Social Security on a crusade to "get it done," and apparently now believes he has the votes to do it.

Nearly a million youths brought to America as young children facing deportation, along with others who have lived here peaceably and productively for decades. Muslims, African-Americans and other minorities under assault from racists, with White House winks and nods of encouragement.

The Internet about to be ceded to those who can afford "fast lane" access. Public lands threatened by drillers and developers. States with sensible gun laws trumped by states that don't. Clean water, clean air and other environmental protections years in the making about to be undone by an EPA now in the hands of the polluters.

And let's not neglect the conversion of the Labor Department and the National Labor Relations Board into anti-labor havens, and the appointment of right wing judges to back them up. Or the dismay of allies like France, Germany and Japan that the U.S. has become an unreliable partner. Or Trump's casual comments about the use of nuclear weapons against North Korea or Iran.

Organized constituencies in all these areas, and many others, are mobilized to fight back as seldom before, and are fighting back. Like those fighting the Southern California fires, activists who defend children, seniors, working people, the environment, racial harmony, economic justice, education and other areas of life under assault are stretched thin of money, personnel and other resources. But volunteers have signed up in record numbers to fight these fights. And there's a sense that over time perhaps much of the wreckage created by TrumpWorld can be repaired.

More troublesome, and less easily restored, is the damage to areas of life that have little to do with policy and programs and everything to do with the bedrock foundation of America: one nation, indivisible, with freedom and justice for all.

Trump has waged an unrelenting attack on the media and questioned its first amendment rights. Similarly, he has convinced many of his supporters that elections are "rigged," even the election that made him president, an election he fantasizes he actually won by a landslide. "Facts" have become negotiable for many Trump supporters, an incalculably dangerous threat to a society that relies on the public to weigh and vote for rational policy.

Trump has encouraged domestic violence, defended extra-legal behavior, demeaned judges and legal process, and, horrifically, Trump sees little difference between swastika-carrying marchers and those mobilized to protest against them. Never in U.S. history has a president been so openly hostile to the processes that actually do make America great.

In all of this, Trump is encouraging the darkest, least tolerant, forces in society to emerge, perceiving an ally in the White House. He's normalizing amoral behavior, given his own history and daily actions. He's corrupted many religious leaders who have chosen to follow him, rationalizing just about any moral and ethical outrage.

And he likely has destroyed the Republican Party.

As David Brooks concluded in a recent New York Times column:

"The rot afflicting the G.O.P. is comprehensive — moral, intellectual, political and reputational. More and more former Republicans wake up every day and realize: "I'm homeless. I'm politically homeless."

It's a tragedy for the Republican party. Far worse, Trump's months in office have been calamitous for America.

It's time to bring this raging, destructive fire under control.

(Joe Rothstein is a regular columnist for USPoliticstoday.com and author of the acclaimed political thriller "The Latina President and the Conspiracy to Destroy Her." Mr. Rothstein can be contacted at joe@einnews.com).
---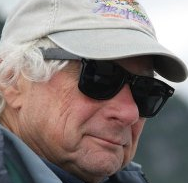 Joe Rothstein is editor of U.S. Politics Today. His career in politics spans 35 years, as a strategist and media producer in more than 200 campaigns for political office and for many political causes. He was a pioneer in professional political consulting and one of the founding members of the American Association of Political Consultants. During his career Mr. Rothstein has served as editor of the Pulitzer Prize-winning Anchorage Daily News and adjunct professor at George Washington University's Graduate School of Political Management. He has a master's degree in journalism from UCLA.
---