Roy Moore Is A Constitution-Rejecting Religious Fanatic; GOP Senators Seem to be Okay With That
October 2, 2017


By Joe Rothstein

Roy Moore is not an "arch conservative," as CBS News refers to him, or a "populist," as described in the New York Times. He's a religious fanatic.

Electing Roy Moore to the U.S. Senate would be akin to electing an Islamic imam who preaches that we all must live under strict sharia law. If Alabama voters send him to Washington, D.C. as their senator, Moore's first official act would be a lie. To take office he would have to swear to uphold and defend the U.S. Constitution, a document Moore has spent his entire public career defiling.

Moore believes the Bible is the law of the land. "Let every soul be subject unto the higher powers," he told a convention of Southern Baptist pastors in Nashville, citing Romans 13:1. "For there is no power but of God: the powers that be are ordained by God."

The same words, in only slightly modified form and quoting the Koran, are the mainstay of imams advocating Islamic theocracy. Theocracy is what Moore preaches. A very narrow theocracy that excludes all those who disagree with his Biblical interpretation.

It's not just the words. Moore has built his political career by arguing that the Bible takes precedence over the Constitution, and defying orders of the U.S. Supreme Court and Alabama courts to respect the Constitution as the law of the land.

As a county judge he drew national attention, and rebuke from judicial authorities, by beginning court sessions with prayer and by hanging a copy of the ten commandments in his courtroom. The notoriety from those episodes propelled him into his first campaign to be chief justice of Alabama's Supreme Court. In announcing his candidacy he said he hoped to "return God to our public life and restore the moral foundation of our law." According to Wikipedia, his campaign was centered on religious issues, arguing that Christianity's declining influence "corresponded directly with school violence, homosexuality, and crime."

Moore won that election and promptly installed a concrete block monument engraved with the ten commandments in the Alabama Judicial Building. The federal court ordered him to remove it as a violation of the Constitution's separation of church and state clause. He refused, and two years after he was elected, the Alabama Court of the Judiciary removed him from office.

Then, between unsuccessful runs for governor, Moore hauled that concrete block around the U.S., giving speeches like the one in Nashville, promoting the Bible's primacy over the Constitution.

Moore again was elected Chief Justice, but three years after that election, in May 2016, Alabama judicial authorities suspended him for directing probate judges to refuse to issue marriage licenses to same sex couples, even though the U.S. Supreme Court had affirmed the constitutionality of same sex marriages.

Over the years, 34 separate Alabama judges have ruled against him, none for him.

Moore has often suggested that 9/11 resulted from god's wrath at the U.S. for recognizing homosexuality and abortion. He has appeared multiple times on the radio show of a pastor named Kevin Swanson who promotes executing lesbians and gays or imprisoning them for life.

When he ran for the office of Alabama Chief Justice in 2012, his largest financial backer was Michael Peroutka, a frequent speaker where white supremacists gather. In fact, a video of Peroutka shows him asking a group to stand for the national anthem and leading them in the confederate rally song, "Dixie."

Moore's record and beliefs are no secret. Just Google him. It's all there. Including the fact that as a young lieutenant serving in Vietnam he slept with sandbags under his bed as protection against the threat that men under his command would roll a hand grenade under that bed and kill him. He was that unpopular.

The only thing more appalling than the prospect of Roy Moore becoming a United States senator is the fact that none of the 52 current Republican United States senators seem to have no problem with having him join their club. Most reacted with cowardly silence to Moore's win in the September 26 Alabama Republican primary. Among those who did comment were North Dakota Senator John Hoeven on MSNBC: "I haven't had a chance to look through all of those things," and Ohio Senator Rob Portman in the Washington Post, "I don't know him, I don't know him."

Hoeven and Portman are considered political "moderates." For them not to question the ascension of a constitution-defiling religious fanatic to a United States Senate seat is a measure of how low a bar the Republican party now sets for governing America.

If Republicans help Moore get elected, an egregious act of politics over principle, they open the gates for the birthers, the race haters, the religious intolerants and others who long have been considered outliers on America's political fringe, to join the mainstream.

Senator Portman indicated he was okay with Moore's election because he believed Moore would vote for the GOP tax bill. That's an outrageous price to pay for selling the soul of America.

(Joe Rothstein is a regular columnist for USPoliticstoday.com and author of the acclaimed political thriller "The Latina President and the Conspiracy to Destroy Her." Mr. Rothstein can be contacted at joe@einnews.com).
---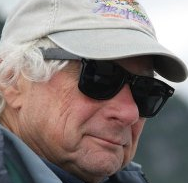 Joe Rothstein is editor of U.S. Politics Today. His career in politics spans 35 years, as a strategist and media producer in more than 200 campaigns for political office and for many political causes. He was a pioneer in professional political consulting and one of the founding members of the American Association of Political Consultants. During his career Mr. Rothstein has served as editor of the Pulitzer Prize-winning Anchorage Daily News and adjunct professor at George Washington University's Graduate School of Political Management. He has a master's degree in journalism from UCLA.
---