Forget Trump for A Few Moments And Read About Some Inspirational Successes
September 25, 2017


By Joe Rothstein

We interrupt our 24/7 obsession with Trump's ravings to bring you some good news. There's a lot of good news out there, but Trump has succeeded in redirecting much of our attention to whatever train wreck he decides to create when he rolls out of bed each morning.

That leaves little room for stories such as announcement of the finalists for the annual Buckminster Fuller Challenge Prize. Fuller was one of the most influential voices of the 20th century. An architect, his most famous work was development of the geodesic dome, a uniquely strong and mobile structure that has housed work groups and individuals throughout the world. Fuller also coined the term "Spaceship Earth," a perception of the world that reminds us of our place in the universe and our responsibility to help maintain it.

That's the goal of the Buckminster Fuller Challenge: to identify and celebrate unique solutions to some of humanity's most pressing common problems.

Here are thumbnails of three of the finalists for this year's Challenge, and their projects.

FOOD SECURITY
More than 16 million acres in India, acres that poor rural villagers depend on for food, are at the mercy of annual monsoons and frequent droughts. The Sustainable Green Initiative Forum, one of the Fuller finalists, has designed an ingenious low cost device it calls the "Bhungroo," a hollow straw pipe that can store and filter rain water to a depth of nearly a thousand feet in a wide range of sub soils. This allows farmers to preserve and retrieve stored water as it's needed. A collective of women own the water and provide fee-based services. With Bhungroo, small farmers can survive climactic changes, while the service provides needed economic support for the village.

SUSTAINABLE RECYCLING
In the Philippines and Cameron fishing villages are selling their discarded fishing nets to Interface, the world's largest manufacturer of commercial tile. This trade loop evolved through Interface's interest in using recycled materials, and the efforts of the Zoology Society of London, which manages more than 50 conservation programs worldwide. A third partner is Aquafil, a company that makes Nylon 6 yarn. The program is called "Net-Works." Interface provides the start-up capital and global network. ZSL brings its community organizational skills and conservation expertise, and Aquafil recycles the nets into yarn. The project is poised to expand to more countries in Africa and Asia.

WASTE CONVERSION
We hear a lot about industrial farming, but small farmers throughout Latin America, Africa and Asia actually grow 80 percent of the world's food. To do that they need inexpensive fertilizer and energy. An innovative system, "Sistema Biobolsa," permits small farmers to covert organic waste into renewable energy and organic fertilizer. The system is modular, allowing it to be transported on motorbikes, donkeys and boats where roads don't easily reach. The natural gas produced is used for clean cooking, heating water and powering small engines and generators. Using this system reduces wood-burning indoor air pollution, deforestation and water contamination. The project is an initiative of the Mexico City-based International Renewable Resource Institute.

These are just three of the six finalists. All of them inspirational efforts to improve local living conditions and make Spaceship Earth more hospitable for everyone.

Good news generally has low priority among those who decide the day's headlines and where to dispatch camera crews. But if our future is to be brighter, not darker, it's projects like those honored by the Buckminster Fuller Foundation that will keep the lights on.

(Joe Rothstein is a regular columnist for USPoliticstoday.com and author of the acclaimed political thriller "The Latina President and the Conspiracy to Destroy Her." Mr. Rothstein can be contacted at joe@einnews.com).
---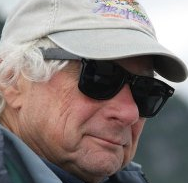 Joe Rothstein is editor of U.S. Politics Today. His career in politics spans 35 years, as a strategist and media producer in more than 200 campaigns for political office and for many political causes. He was a pioneer in professional political consulting and one of the founding members of the American Association of Political Consultants. During his career Mr. Rothstein has served as editor of the Pulitzer Prize-winning Anchorage Daily News and adjunct professor at George Washington University's Graduate School of Political Management. He has a master's degree in journalism from UCLA.
---