To Win Big in 2018 Democrats Need to Think Big, And Hit The Refresh Button
August 28, 2017
By Joe Rothstein
How low can Donald Trump's approval numbers go? Probably not much lower than they already are. Richard Nixon's positive ratings remained in the mid-30s even as his crimes against the Constitution were revealed in congressional hearings. They didn't drop into the 20s until he was helicoptered off the White House lawn for the final time after his resignation.
We have little more to learn about Donald Trump. There's not much he could do to make us unlearn what we already know. With each new outrage negative opinions drill a bit deeper, but not much wider. The ebb and flow of his approval numbers from now to the end of his presidency won't matter unless the bottom drops out of his hard core support.
But other numbers will matter, particularly whether they show that voters are spreading their net of hostility beyond Trump to Republican members of Congress, or if Democrats gain ground as worthy alternatives to Republican control. A new poll suggests that these questions remain to be decided.
Periodically, the George Washington University Graduate School of Political Management commissions a "Battleground" poll, in which a Democratic and a Republican firm jointly survey a thousand voters and write separate reports from data they've collected in common. The latest poll was in the field August 13-17 and the results are not particularly encouraging for Democrats.
Democrats have a 46-40 advantage on the generic question of whether the respondent would vote for a Democrat or a Republican for Congress. But on more specific questions, Republicans have the advantage on taxes (46-42), trade (49-39), defense (55-36), and are statistically tied with Democrats on the economy (47-44), jobs (46-45), and management of the North Korean crisis (45-42). The Democrats' advantage comes with health (55-32), climate change (62-24), and immigration (49-43).
On the all important jobs question, after President Obama's first six months in office the Democrats held a 47-33 lead. It's been a precipitous drop in confidence among voters since then, and likely cost Hillary Clinton electoral wins in Wisconsin, Michigan and Pennsylvania.
The Tarrance Group, a Republican firm that partnered in this Battleground poll, saw the numbers as encouraging for Republicans going into the 2018 election, a winning path through the tax, trade and national defense issues.
Lake Research Partners, the Democratic polling firm, concluded that voters who want major changes in Washington are still dissatisfied, and that to win in 2018, Democrats need to be convincing that they are the party of change. Being the "anti-Trump" party hasn't resulted in a voter rush toward the Democratic Party brand.
Those who make a living selling things quickly learn that once the deal is made, quit talking. That's a lesson Democratic leader leaders need to understand in the months ahead. The "deal" that Trump is an historically awful president has been made. Trump made that deal himself only days after entering the White House. He reinforces it daily and can be depended upon to remain the best salesman for his own leadership failures, anti-democratic convictions and egocentric instincts.
Democrats don't need to spend energy and dollars selling the anti-Trump message. What they do need to do, if they hope to win control of the U.S. House in 2018 and be competitive in U.S. Senate races, is to provide voters with a clear and convincing alternative. Not just a muddled "safe" agenda, but one that stirs voter hope and imagination of how Democratic control can positively impact their own lives.
The recent British election produced a stunning comeback for the Labor Party which ran on a program most pre-election observers believed to be too extreme---nationalization of the railroads, free higher education, expansion of the national health service, removing restrictions on labor organizing, caps on executive pay and increased taxes on the wealthy to pay for it all. Rather than being a death warrant for the Labor Party, full-throated endorsement of this agenda energized the party's sluggish constituencies and erased nearly all of a 22-point early campaign deficit.
The U.S. isn't Great Britain, but both countries have been through years of government austerity, corporate abuse and widening income disparity. In 2016, U.S. voters gave us two dramatic examples, the Trump and Bernie Sanders campaigns, of how being for real change turns dull policy straw into election gold.
A few weeks ago, in this space ("For Democrats to Provide A Convincing 'Better Deal' They Need A Bolder Message and More Credible Messengers"
http://bit.ly/2xFYto9
) I suggested that Democrats embrace a "Marshall Plan" for rural America, such as the one recently outlined by the Center for American Progress, and to add other bold programs to their "Better Deal," message.
And it's not just the message. You can't be a convincing change agent if your messengers are seen as part of the long-term problem. Nancy Pelosi and Chuck Schumer are important and accomplished legislative leaders, but it's ludicrous and needless for them to be the public face of a party that needs a major face lift.
The "Battleground Poll," is just the latest piece of evidence that voters are still hungry for change. Trump's election didn't satisfy that hunger, and won't. The Democrats in Congress and those running for Congress are in a much better position than the Republicans to make a credible case for change. But to succeed they can't rely on Trump's failures and a politically timid agenda.
(Joe Rothstein is a regular columnist for USPoliticstoday.com and author of the acclaimed political thriller "The Latina President and the Conspiracy to Destroy Her." Mr. Rothstein can be contacted at joe@einnews.com).
---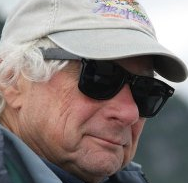 Joe Rothstein is editor of U.S. Politics Today. His career in politics spans 35 years, as a strategist and media producer in more than 200 campaigns for political office and for many political causes. He was a pioneer in professional political consulting and one of the founding members of the American Association of Political Consultants. During his career Mr. Rothstein has served as editor of the Pulitzer Prize-winning Anchorage Daily News and adjunct professor at George Washington University's Graduate School of Political Management. He has a master's degree in journalism from UCLA.
---