Radical Right Provocateurs Stir Prospect of Armed Violence if Trump Is Forced Out
August 7, 2017


Joe Rothstein

It's August. The last weeks of summer. For many, the time for long-awaited vacations. For others, a time for stocking up on back-to-school clothes and supplies. The president is golfing. Congress is in recess. Time to relax? Ordinarily, yes. But it's also time to worry about what could be ahead. What could be ahead? Armed political insurrection. And yes, it's a legitimate concern.

Michael Savage, one of the most popular of the radical right's instigators of hate, just forecast such an outcome if "[the left] take(s) Trump down, through (Special Counsel Robert) Mueller or through any other source and deny Eddie his vote, there will be a civil war in this country," Savage predicted.

The "Eddie" Savage refers to here is a character in the the 1939 novel, "The Day of the Locust," a saga that imagines street mobs and chaos by people who feel cheated out of the American Dream. Savage told his listeners the other day that people will "resort to mob violence" when they "are finally aware of the fact that they've been tricked by their society, and that no matter how hard they work as middle class people" they are denied.

Ordinarily we could pass that off as hyperbole from just another right wing huckster trying to maintain his broadcast ratings by pumping up his listeners' sense of outrage. What makes this more serious is that President Trump, in his speech to a West Virginia audience a few days earlier, used language nearly as inflammatory.

"Powerful forces," said Trump, "opposed to us...are trying to cheat you out of your future." These forces, "sacrificed our sovereignty, our wealth and our jobs."..."They're trying to cheat you out of the leadership that you want with a fake story."

Trump's remarks came on the day we learned that Mueller has convened a grand jury in Washington. In Trump's speech he continued to characterize as a hoax the evidence that the Russian government tried to influence the outcome of the 2016 election. He insists that it's a hoax, even though the U.S. House and Senate, Republicans and Democrats, with few dissenting votes, imposed new sanctions on Russia for that interference. The vote for sanctions was 419-3 in the House and 98-2 in the Senate. Virtually no member in either body considers Russian meddling a hoax.

But those in the adoring crowd lined up behind Trump on the grandstand in West Virginia clearly do. They cheered themselves hoarse for Trump. They're hardly alone. In fact, polling shows about 30% of U.S. voters either don't believe or don't care whether the Russians did it, or whether Trump's campaign colluded with them. Michael Savage predicts that many of these Trump faithful would take to the streets with deadly force if Trump is removed from office as a result of Mueller's investigation.

Another warning shot, literally, has come from the National Rifle Association. In Internet TV ads this summer, spokesperson Dana Loesch paints a picture of mob violence in the streets---mobs incited by liberals. She declares that the NRA is "freedom's safest place." Her latest video threatens the New York Times with a "shot across your proverbial bow" and closes with these words: "we're coming for you." Clearly, the leadership of the NRA has fully evolved from seeing its mission as promotion of safe use of weapons to one which threatens to use them in an "us against them" conflict.

Into this cauldron of hate and threat, Mueller at some point will announce the results of his investigation. All U.S. intelligence agencies agree the Russians waged a tightly focused campaign to disrupt our 2016 elections on behalf of Trump's campaign. Donald Trump Jr. already has produced evidence that he and other top Trump campaign leaders met with Russians who promised political dirt on Hillary Clinton and who represented themselves as speaking for the Russian government. Trump himself is on video bragging to the Russian ambassador that by firing FBI director James Comey the pressure on him over the Russian investigation had been "taken off."

All of that may or may not be reason for Congress to act to remove Trump from the White House. But it's been the pathway to other issues involving Trump. Ever since mainstream U.S. banks and money sources cut off Trump's business funding because he proved to be a dead beat, tens of millions to finance Trump's projects have been coming from a variety of unconventional sources, much of that money tied to Russian and former Soviet Union oligarchs. Trump's business partners are no strangers to FBI investigators and other intelligence agency operatives. Those files have been building for years.

That's why Trump risked losing last year's election rather than disclose his tax returns, and why he specifically warned Mueller to lay off diving into his balance sheets.

Whether Mueller will find enough criminality by Trump and his family to file charges, or will just settle for disclosures remains to be seen. But things have gone too far for Mueller to simply shut down his investigation without indictments, charges or even a public report. Then it will be up to Congress to decide whether to defend Trump or remove him.

For Republicans in Congress this will pose a no-win choice. Defending a president who has lost the confidence of two-thirds of the electorate would almost certainly be costly for them in the 2018 elections. But removing him would risk the fury of those who cheered Trump's every word at the West Virginia rally and the millions of others who Trump is encouraging to view Washington as a hostile foreign power.

"You haven't seen the thing I'm telling you is coming in this country," says Michael Savage. "You haven't seen the 'Day of the Locust' yet."

And to make sure we never will, Trump, members of Congress, political media instigators and others with a voice and a following had better begin now to lower the public temperature. There will be a day of reckoning for Trump. There need not be a Day of The Locusts for the rest of us.

(Joe Rothstein is a columnist for USPoliticstoday.com and author of the acclaimed political thriller "The Latina President and the Conspiracy to Destroy Her." Mr. Rothstein can be contacted at joe@einnews.com).
---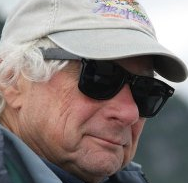 Joe Rothstein is editor of U.S. Politics Today. His career in politics spans 35 years, as a strategist and media producer in more than 200 campaigns for political office and for many political causes. He was a pioneer in professional political consulting and one of the founding members of the American Association of Political Consultants. During his career Mr. Rothstein has served as editor of the Pulitzer Prize-winning Anchorage Daily News and adjunct professor at George Washington University's Graduate School of Political Management. He has a master's degree in journalism from UCLA.
---