'In Trump We Trust.' Is That Really The New America?
July 17, 2017


By Joe Rothstein

Donald Trump was elected President despite the near universal opposition of…

Most Republican members of Congress
Virtually every conservative and liberal news editorial page in the U.S.
Nearly every recognized expert in economics and foreign policy
A large majority of U.S. corporate leaders
The Pope
Most of the nation's governors
The past two Republican nominees for president
And a long list of others, who, under normal circumstances, would be considered opinion leaders.

Donald Trump was elected President despite bragging about molesting women; a long history of stiffing workers, contractors and those who loaned him money; engaging in blatant scams like "Trump University;" openly attacking Islam and stoking religious intolerance; slandering Mexicans and others of Hispanic descent; calling on the Russian government to illegally hack into his opponent's email account, and other reckless, bizarre and immoral behavior.

With their votes, those who elected Donald Trump were saying either that none of this mattered, or mattered less than the flaws they found in Hillary Clinton, who was not accused of doing any of those things.

It was an extraordinary act of defiance by Trump voters against virtually every major institution in America. And, for most of those Trump voters, nothing he has done since gaining the White House---not the Russian revelations, the conflicts of interest, the nepotism, not his failure to protect Medicaid and Medicare---nothing has weakened their support for him.

Today, as I write this, I'm looking at the results of a Washington Post/ABC News poll that shows 89% of those registered as Democrats and 68% of those who identify as independents disapprove of the way Trump is doing his job. But among Republicans, Trump maintains 82% support, virtually unchanged from the day he took office.

And we have to ask ourselves not just why he got elected, but why for fully one third of the American electorate he seems impervious to criticism. During the 2016 election, Trump joked that he could shoot someone and not lose votes. A year later we wonder whether he might actually be right about that.

For a possible explanation to this extraordinary situation, let's take a look at polls taken over past years by Gallup, measuring public trust.

In 1995, trust in the presidency was measured at 72%. In 2016 that number had fallen to 36%. Here are the trust numbers for other institutions as voters went to the polls in 2016: Congress, 9%; Supreme Court, 36%; Organized religion, 41%; Banks, 27%; public schools, 30%; organized labor, 23%; newspapers, 20%; TV news, 21%; big business, 18%.

Except for the military and the police, just about every category measured has dropped precipitously over the past decades. So if people can't have more trust in their government, business, labor, religion, education and news media, who can they trust?

Obviously, tens of millions of Americans have decided to place their trust in Trump, a man whose behavior and career violate the values we teach our children and demand for ourselves and those around us. For Trump to engender such support a perilous number of voters must feel threatened by the alternatives. And if you are a frequent visitor to the right-wing news silo you can understand why.

Right wing news is, at its core, an "us," against "them" saga, a battle being fought on many fronts: "wars" on religion, on guns, on racial and ethnic supremacy, on the transfer of your money to those too lazy to work. Who are "they?" The federal government, the courts, the gun haters, the media, Hollywood, scientists, foreigners, "elites."

It's a relentless negative campaign financed by extremely wealthy ideologues, and embraced by America's dominant Republican party. That campaign didn't start in 2016 and it won't end in 2017, 2018 or any year soon. It doesn't represent the majority view of the American people, but it succeeds because there's been little organized opposition to it.

Most of us didn't recognize the risk until the votes were counted last November. There's little excuse now for failure to mobilize against it. That opposition must include Republicans who are horrified at what's happened to their political party, independents who have adopted a-plague-on-both-your-houses attitude of non-involvement, Democrats who have their own deep ideological divisions that pale before the dangers posed by the forces now holding the powers of government.

Those who can afford it must invest serious money to support traditional democratic causes. Religious leaders can no longer allow the most extreme among them to pose as the voice of organized religion, allowing "In Trump We Trust," to replace tolerance and compassion with division and hate.

The most alarming thing about all of this is that the decline of trust in our most important institutions is more widespread than the coterie of Trump disciples. It's there, even for many who don't support him and didn't vote for him.

Recovering from this dark period in American political history requires massive mobilization, time, and political and economic courage. Trust is fragile, easily lost, difficult to retrieve. But necessary to reclaim America from the forces now actively engaged in tearing it down.

(Joe Rothstein is a regular columnist for USPoliticstoday.com and author of the acclaimed political thriller "The Latina President and the Conspiracy to Destroy Her." Mr. Rothstein can be contacted at joe@einnews.com).
---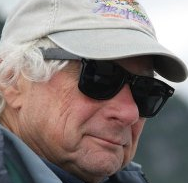 Joe Rothstein is editor of U.S. Politics Today. His career in politics spans 35 years, as a strategist and media producer in more than 200 campaigns for political office and for many political causes. He was a pioneer in professional political consulting and one of the founding members of the American Association of Political Consultants. During his career Mr. Rothstein has served as editor of the Pulitzer Prize-winning Anchorage Daily News and adjunct professor at George Washington University's Graduate School of Political Management. He has a master's degree in journalism from UCLA.
---