Now Is The Time for All Good Republicans to Come to The Aid of Their Country (This Is Not A Typing Test)
June 13, 2017


By Joe Rothstein

A few days ago Washington Post columnist Steve Pearlstein wrote a piece urging business leaders to speak out against the multiple threats the U.S. faces with Donald Trump as president. He began his column, "Now is the time for all good men to come to the aid of their country."

"Now is the time for all good men to come to the aid of their country," is a call to arms often attributed to Patrick Henry, one of the heroes of the American Revolution. Others say it was a phrase developed as a typing test by a man named Charles E. Weller in 1867. Either way, it's a message for our times.

Our form of democracy is being threatened. Every intelligence agency Americans rely on to keep us safe agrees that the Russian government compromised our communications systems in an effort to distort the outcome of our 2016 elections. They hacked into sensitive email servers and planted fake stories. There's even enough evidence to suggest they conspired with a number of people close to the Trump campaign. That's why an independent counsel investigation is under way.

Our legal system is being threatened. We have a president who either doesn't know or doesn't respect the vital boundaries between an independent legal system and presidential power.

The competence of our federal government is being threatened. Six months into President Trump's administration 80% of the nation's most important jobs remain unfilled. Most because no one has been appointed to them, others because nominees have been so unqualified they can't be confirmed. How can experienced men and women be recruited to manage the nation's defense and foreign policy, its international trade, and to man other important posts when competent candidates see such turmoil and bizarre behavior from the top.

America's standing in the world is being threatened when our allies are scolded while dictators are praised. Our health care system is paralyzed, with insurers and employers alike uncertain of future policy. Outspoken opponents of our public school system, now in positions of power, are threatening to upend programs relied on by every school district in America.

And psychiatrists are openly debating whether their code of ethics allow them to say publicly what a great many believe privately, that we have a U.S. president with severe mental health problems.

Isn't now the time for all good men and women to come to the aid of their country? In his column Steve Pearlstein poses this question to business leaders. Even more urgently, it's time for Republican leaders to speak up, step up and mobilize barriers against White House-driven disasters.

Voters entrusted Republicans with governing the country-—the White House, the Congress, most of the nation's states and state legislature. Where are they now?

Many Republicans look to Mitt Romney as the party's leading counterforce to Trump and the radical forces that have captured the Republican Party. What does Romney say? His most recent statement, after the Comey firing: "We could reduce some of the temperature around those things, the theater, and more about the policy things that are going to make a real difference in the lives of Americans." Not exactly a call to arms.

The Bush family has produced two presidents, and a third Bush was initially considered the front runner in the 2016 GOP primaries. Many long-time Republicans invested money and faith in Jeb Bush and his leadership ability. Bush's comment about the Comey hearing:

"Who cares what I think?" That cop-out was augmented by this brave observation: "It would be great to get back to the business of governing and less about the swirling controversies. I just think the president needs to focus on doing his job."

Jeff Flake, the Arizona U.S. Senator, was outspoken in his opposition to Trump during the campaign. Now he says, "It'd be easier if Trump wasn't tweeting so much." Really? Trump's tweets are the heart of the problem?

At least Arizona's other senator, John McCain, in whom Republicans invested their White House hopes in 2008, recognizes the foreign policy threat. He told the U.K.'s Guardian newspaper, "The entire world is now left wondering as to America's role in global affairs. They are not sure of American leadership, whether it be in Siberia or whether it be in Antarctica. In terms of foreign policy, this is going to have serious consequences."

Yes it will. McCain has been traveling the world trying to reassure our allies. But it doesn't seem McCain is ready to deal with the problem at its root, here at home.

John Kasich fought Trump to the end of the 2016 primaries and has plenty of standing as a conservative opposition leader. Kasich has been in the news lately promoting his new book, getting excellent forums for sounding alarms about Trump in the White House. But he's not doing that.

His message: It's our fault. "I think you can judge a country by how often people rise above self-absorption to being concerned about somebody else. I think we all need to live a life a little bigger than ourselves."

Then there's Marco Rubio, one of the other finalists in the 2016 presidential primaries. He takes the "blame the people" message even further.

"I don't understand why people are that shocked. This president ran a very unconventional campaign," Rubio told TV host John Dickerson. "This White House is not much different from the campaign. People got what they voted for. They elected him."

"I warned you," is not exactly a leadership message.

Texas Senator Ted Cruz, another would-be Republican leader, weighed in with this gem the other day when speaking at an Irving, Texas, Chamber of Commerce event: "What I'm trying to do is just ignore the circus...unfortunately, some of his damage is self-inflicted. I wish that was not the case."

The Republican House Speaker writes off Trump's meddling with the legal system as just an expected error from a political novice. The Republican Senate Majority leader's most severe criticism of Trump is that he provokes too much drama.

Where are the Republican leaders at any level who recognize the threat and are prepared to face up to it, as real leaders do? How much courage is needed to stand up to a president whose poll approval numbers are in the toilet? Every major Republican-leaning news columnist is telling the truth about Trump and sending up warning flares. Even the leadership of the Southern Baptist Conference, a major reliable support organization for Republican candidates, is in open rebellion.

Now is the time for ALL good men and women to come to the aid of their country, especially those who call themselves leaders. Some Republicans, somewhere, have to understand that this is not just a typing exercise.

(Joe Rothstein is a regular columnist for USPoliticstoday.com and author of the acclaimed political thriller "The Latina President and the Conspiracy to Destroy Her." Mr. Rothstein can be contacted at joe@einnews.com).
---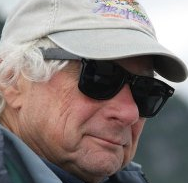 Joe Rothstein is editor of U.S. Politics Today. His career in politics spans 35 years, as a strategist and media producer in more than 200 campaigns for political office and for many political causes. He was a pioneer in professional political consulting and one of the founding members of the American Association of Political Consultants. During his career Mr. Rothstein has served as editor of the Pulitzer Prize-winning Anchorage Daily News and adjunct professor at George Washington University's Graduate School of Political Management. He has a master's degree in journalism from UCLA.
---