If GOP Leaders Fail to Impeach Trump, Voters Will Need to Impeach Congress
June 5, 2017


By Joe Rothstein

A year ago, then candidate Donald Trump spoke at an event sponsored by the West Virginia Coal Association. He donned a miner's helmet, removed it quickly and then got down to really important matters.

"My hair look okay?" he asked the crowd. "Got a little spray — give me a little spray.

"You know, you're not allowed to use hairspray anymore because if affects the ozone. You know that, right? Hairspray's not like it used to be, it used to be real good.

"Give me a mirror.

"In the old days, you put the hairspray on, it was good. Today, you put the hairspray on, it's good for 12 minutes, right?"

"I said, 'Wait a minute — so if I take hairspray and if I spray it in my apartment, which is all sealed, you're telling me that affects the ozone layer?' I say, 'no way, folks. No way'!"

"No way! That's like a lot of the rules and regulations you people have in the mines, right? It's the same kind of stuff."

Was it Trump's annoyance that he no longer could use his favorite hair spray that tipped the balance? Or, maybe it was the fact that EU environmental concerns delayed permits for his golf courses in Scotland and Ireland---a complaint he aired to fellow world leaders during his recent meeting with them in Belgium. Whatever. Given Trump's short attention span and disdain for science, his made-for-TV decision to withdraw the U.S. from the Paris accord should have surprised no one. It's reasonable to assume Trump hasn't a clue about the science behind the Paris accord, the negotiation that produced it, or the likely consequences for failing to counter the planet's rising temperatures.

But a lot of others do have a clue, many of them Republican leaders in both houses of Congress. We know that because as recently as during President Obama's first term, the U.S. House passed a bill to establish a cap on green house gas emissions. That bill won approval in the House by a narrow majority of 7 votes. Eight Republicans voted for it. In fact, cap and trade is a market-oriented idea for controlling emissions that evolved from conservative Republican think tanks. We also know that many Republican leaders understand the threat of global warming because in the 2008 presidential election, John McCain touted his environmental experience as a reason to vote for him rather than Obama and that legions of Republican candidates on the ballot that year followed his lead.

Yet, when Trump withdrew from the Paris accord House Speaker Paul Ryan, Senate Majority Leader Mitch McConnell and every other Republican in a congressional leadership position applauded.

There could hardly be a more graphic real life portrayal of the old "the emperor has no clothes" fairy tale than watching the entire Republican leadership applaud Trump, knowing full well that his speech was naked gibberish. Not just innocent naked gibberish. Applauding Trump's attacks on the leaders of Canada, Great Britain, France, Germany, Italy and other nations that have been our long time military allies and most important economic trading partners will have negative consequences for years to come, and not just on climate change issues.

Trump is a victim of his own narrow minded greed and personal insecurities. But the Republican leadership in Congress is composed of skilled, experienced and knowledgeable leaders who have the power and the obligation to detour Trump from his most egregious excesses. To instead become his enablers is inexcusable and dangerous.

It reinforces the argument that no matter into what unsavory corners investigations Trump-Putin campaign involvement lead, or what's likely to get uncovered as business conflicts of interest, this Congress will not censure or impeach Trump. That would leave voters this remedy: impeach Congress.

On what grounds? The same grounds that should be cause for removing Trump. Complicity with a hostile foreign power to distort the results of the 2016 elections. Permitting him to retain financial control of business interests and illegally benefit from his own actions as president. Nepotism of the highest order. Lying to Congress. Misuse of taxpayer funds. And, in line with last year's "lock her up," demands, disclosure of secret U.S. information through wanton carelessness. That's the short list.

Ironically, research shows that in 2016 many voters cast ballots for Republicans running for Congress believing that Hillary Clinton would be president and Republican majorities were needed to restrain her.

In 2018 that situation will be reversed. If Republican leaders continue to feign collective amnesia and give Trump a free pass to do things that in prior years would have drawn their fierce opposition, voters will have no choice but to change that leadership. Democratic majorities will be necessary to restrain Trump.

In other words, the 2018 campaign will essentially be an impeachment trial charging congressional Republicans with being as ethically and irresponsibly naked as their president.

(Joe Rothstein is a regular columnist for USPoliticstoday.com and author of the acclaimed political thriller "The Latina President and the Conspiracy to Destroy Her." Mr. Rothstein can be contacted at joe@einnews.com).
---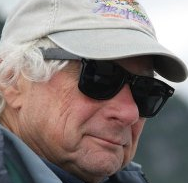 Joe Rothstein is editor of U.S. Politics Today. His career in politics spans 35 years, as a strategist and media producer in more than 200 campaigns for political office and for many political causes. He was a pioneer in professional political consulting and one of the founding members of the American Association of Political Consultants. During his career Mr. Rothstein has served as editor of the Pulitzer Prize-winning Anchorage Daily News and adjunct professor at George Washington University's Graduate School of Political Management. He has a master's degree in journalism from UCLA.
---