Putin: Just Incredibly Lucky or a Brilliant Strategist? Inquiring Minds Have A Right to Know
May 30, 2017


By Joe Rothstein

Vladimir Putin seems intent on reasserting Russia's sphere of influence through the Baltic, Central Europe, and the Stan nations.

But, standing in the way are some inconvenient obstacles. Such as, 1) the powerful NATO alliance surrounding Russia and determined to contain Russia's expansion 2) Russia's relatively small and weak economy, 12th in the world in terms of GDP, smaller than even South Korea's, Canada's and Australia's 3) oil, the chief source of Russia's wealth, no longer is a financial bonanza, compromised by low prices, the U.S. fracking boom and the surge in renewables.

What's an expansion-minded Putin to do? He has nuclear weapons, but he's not about to use them. He has a million man army, but except for minor skirmishes around the edges of the Ukraine and Georgia, can't deploy them without getting significant blow back from the superior forces of NATO.

Putin has secured dictatorial authority in Russia, but pretty much has reached the limits of where he can accumulate more power without incurring enormous risks to his homeland and even for his own reign.

So, if I'm Putin, still afire with ambition, what do I do?

How about trying to sow discord among NATO countries, trying to undermine their effectiveness?

Why not try to turn Turkey, a large and powerful nation on Russia's southern border, against its NATO partners, particularly the U.S.?

Maybe even plot to weaken the U.S. internally, using its own dedication to democracy against itself?

And, what do you know, all that is actually happening. In Putin's wildest fantasies, he could hardly imagine how the world has turned in his favor over the past year or so.

A new American president is in office, one who behaves bizarrely, shakes confidence in allies and mistrusts his own intelligence agencies.

In the new American government generals have replaced civilians in the role of making geopolitical military policy. With that new authority the generals are pushing the U.S. into even deeper involvement in the middle east war quagmire.

U.S. diplomacy has been marginalized. An oil man runs it. Key State Department jobs remain unfilled. Long time ally Germany says Europe no longer can trust U.S. support, signaling a severe break in decades old western military and trade alliances.

And an even bigger jackpot---more people in the U.S. than ever are questioning whether democracy itself is on the ropes. Music to an autocrat's ears.

Is Putin just one extraordinarily lucky guy to have all these good things fall into place, or are we seeing the results of a particularly clever campaign waged through Putin's myriad channels of power?

That's the question before Justice Department independent counsel Robert Mueller, the FBI, and various committees of the U.S. House and Senate.

Was it pure luck that had Michael Flynn secure a fat contract with the Turkish government that helped destabilize U.S.-Turkish relations, while Flynn simultaneously was a top advisor to Donald Trump's campaign? Was it just unlikely coincidence that many of the people closest to Trump had extraordinarily close connections with Russian military, financial and government leaders? Should we read anything ominous into the fact that so many of Trump's financial backers happen to be Russians, and that Trump continues to hide information that would allow the public to know what those relationships are?

Was Jared Kushner's secret attempt to set up communications through a Russian KGB network just an innocent effort to jump start the new administration's foreign policy? Was it just a lucky guess that Trump's campaign knew in advance when damaging DNC-hacked information was about to be released by Wikileaks---not just once, but on multiple occasions?

Whether all of this was just Putin and Trump being blessed by an incredible shower of pixie dust, or whether there was an extraordinary, managed effort by Putin to undermine his most powerful adversary, is a question inquiring minds have every right to ask.

Whatever the answer, one thing is clear: the western political and diplomatic world is in disarray, while Vladimir Putin's world looks brighter than ever.

(Joe Rothstein is a regular columnist for USPoliticstoday.com and author of the acclaimed political thriller "The Latina President and the Conspiracy to Destroy Her." Mr. Rothstein can be contacted at joe@einnews.com).
---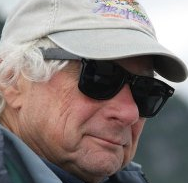 Joe Rothstein is editor of U.S. Politics Today. His career in politics spans 35 years, as a strategist and media producer in more than 200 campaigns for political office and for many political causes. He was a pioneer in professional political consulting and one of the founding members of the American Association of Political Consultants. During his career Mr. Rothstein has served as editor of the Pulitzer Prize-winning Anchorage Daily News and adjunct professor at George Washington University's Graduate School of Political Management. He has a master's degree in journalism from UCLA.
---