How All This Is Likely to End: With An Artful Deal and The Privatization of Impeachment
May 22, 2017


By Joe Rothstein

Republicans love to privatize jobs that historically have been considered best done as public service.

During the past few months the Republican Congress has talked seriously about turning over the nation's air traffic control system to private hands. Proposals to sell off, or even give away national monuments and other public lands have made recent headlines. The new education secretary is an advocate for scuttling public schools. House Speaker Paul Ryan has long wanted to privatize Medicare.

"Run the government like a business" is not a new mantra for Republicans. In fact, one of strongest arguments they made for the election of Donald Trump as president was his business experience.

Well, Trump now commands the White House. Presumably, he is using all of his business savvy and talent to run the presidency. If it actually was a business, scores of knowledgeable analysts would be assessing his performance, forecasting future prospects and passing along their views to shareholders. After the first quarter experience with Trump, Inc. you can almost hear the uniform financial advice: "Sell!"

Continuing the business analogy, with Trump's performance as CEO, the board of directors should be getting nervous about the future of the enterprise. But boards historically are weak-kneed when it comes to executive oversight. Few executives get fired, no matter how much shareholder money is lost.

Shareholders also should be edgy. Those paying attention are. Most, though, are hard-pressed to get through each day, with work, families and other responsibilities. Eventually, when the failures affect them personally, the board room will get their attention. These things take time.

In the real world, the "board" is not going to declare Trump unfit to serve and fire him. The "shareholders" are not going to approve of an ouster so soon after electing him. The Watergate break-in happened in 1972. Nixon didn't resign until two years later.

There is a proven remedy for removing a disastrous CEO. The remedy is resignation. The CEO walks for thinly veiled reasons, and takes with him a very fat going-way financial package. That's how this is likely to end. Call it the privatization of impeachment.

Resignation is a reasonable expectation given doubts that Trump actually ever wanted to be president, and the misgivings he's expressed about the job since taking it.

During the 2016 Republican primaries, for instance, the former head of Trump's Make American Great Again PAC, Stephanie Cegielski, said her job was just to get his poll numbers into double digits so he could make a good show of it. Winning the Republican nomination was as surprising to Trump as to everyone else.

In an interview with Reuters recently, Trump said, "I loved my previous life. I had so many things going. This is more work than in my previous life. I thought it would be easier." At one point before taking office, Trump mused that he could actually "run my business and run government at the same time."

And he has shown every sign of trying. Trump never fully separated himself from his business. There's no blind trust, the common vehicle for detaching public officials from their private finances. Trump's sons continue to run the company with the fiction that they never talk to their father about it. There's an on-going co-mingling of interests, highlighted by his frequent weekends in Mar-a-Lago. Trump even insisted on retaining the "executive producer" title on the Celebrity Apprentice TV show and tweeted about its ratings until the show was cancelled.

Is this a man whose heart and soul is fully vested in the job of being president?

Now consider how Trump's beloved brand is being affected by developments of the past few months. When he's not being disparaged in the media he's a guaranteed punch line for late night comedians. Every corporation that uses his hotels and every bank considering deal financing risks the charge of influence peddling. Ivanka's clothing and jewelry lines are being boycotted. With nearly two-thirds of the U.S. public disapproving of him, huge swaths of the public would never touch a product with a Trump label.

That's all bottom line stuff. Even more seriously, there's now an independent counsel looking deep into his financial background, a background that he voluntarily has refused to disclose. Son-in-law Jared appears to be under intense scrutiny by the FBI and other investigators.

At what point does Trump decide that the risks are too great, that it's time to give up a job he never really wanted or expected to have---and return to the pre-presidential good life he enjoyed?

At that point he does what his life's experience has trained him to do. Maybe it's about his health. He doesn't exercise. He eats lots of ice cream and chocolate cake. It's plausible that he could resign for unspecified health problems. Or maybe he's more confrontational. He couldn't drain the swamp. The swamp drained him. Now he's going to build an organization and media vehicles to fight back. Or maybe he just resigns to spend more time with his family.

The business way, when a CEO needs to be removed, is for him or her to walk for thinly veiled reasons, and with a very fat going-away financial package.

That's how this is likely to end. With an artful deal.

(Joe Rothstein is a regular columnist for USPoliticstoday.com and author of the acclaimed political thriller "The Latina President and the Conspiracy to Destroy Her." Mr. Rothstein can be contacted at joe@einnews.com).
---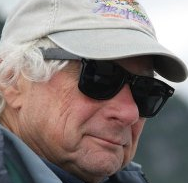 Joe Rothstein is editor of U.S. Politics Today. His career in politics spans 35 years, as a strategist and media producer in more than 200 campaigns for political office and for many political causes. He was a pioneer in professional political consulting and one of the founding members of the American Association of Political Consultants. During his career Mr. Rothstein has served as editor of the Pulitzer Prize-winning Anchorage Daily News and adjunct professor at George Washington University's Graduate School of Political Management. He has a master's degree in journalism from UCLA.
---