Dutch TV Documentary Ties Trump to Dark Money from Russian Oligarchs
May 15, 2017
By Joe Rothstein
Clicking on this link
https://zembla.vara.nl/dossier/uitzending/the-dubious-friends-of-donald-trump-the-russians
will take you to the first of a two-part series produced by Zembla, the Dutch equivalent of U.S. investigative TV documentary-makers 60 Minutes and Frontline.
Zembla has done what so far no U.S. network to my knowledge has had the courage to do: reveal Donald Trump's financial relationships with Russia's oligarchs, mafiosos and convicted racketeers.
"The Dubious Friends of Donald Trump," as the documentary is titled, plows ground already reported elsewhere. But seeing video of a smiling Trump, arm-in-arm with the shadowy figures connected with his business dealings, is so much more powerful than words.
You see Felix Sater, convicted in 1998 of helping five mafia families run a huge pump-and-dump stock fraud scheme. That background didn't stop Sater from scoring a desk in Trump Tower, near Trump's office, and becoming a connection between Trump and big bucks from notorious Russian oligarchs. Trump has sworn in lawsuits, under oath, that he hardly knew Sater and wouldn't recognize him if he saw him. But the Zembla documentary shows them together looking close and chummy.
The main conduit for moving money for many Trump projects was a company called Bayrock. Heading Bayrock was Tevfik Arif, a former Soviet era official, who partnered with Trump on development of the Trump Soho Hotel, and numerous other projects in New York, Florida, Phoenix, Turkey, Poland and elsewhere. Arif made news a few years ago when he was busted by Turkish police for running a prostitution ring on his yacht.
There's also Viktor Khrapunov, a former Kazakh energy minister and former mayor of Almaty, Kazakhstan's largest city. Lawyers for Almaty told a U.S. court in March that Khrapunov and his family "conspired to systematically loot hundreds of millions of dollars of public assets…and to launder their ill-gotten gains through a complex web of bank accounts and shell companies…particularly in the United States."
Bayrock was associated with the Khrapunov family at the same time it was collaborating with Trump.
Part 2 of "The Dubious Friends of Donald Trump," gives in-depth treatment to Uzbek-Israeli billionaire Lev Levien, a confidant of Vladimir Putin and one of the world's leading diamond merchants. His African diamond mines have come under scrutiny for corruption and worker abuse. Levien's Africa-Israel company is suspected of being involved in illegal North Korea trade.
Levien's Trump connection includes New York commercial property deals, including those with the company run by Jared Kushner, Trump's son-in-law.
Most of what's known about the money behind Trump comes from court documents, deals that ended in bankruptcy and government suits filed against him. An exception was the sale of Trump's Palm Beach, Florida estate to Russian oligarch Dmitry Rybolovlev. Trump netted a $50 million windfall on that deal when Rybolovlev paid him an amount far beyond what was considered market price. The deal was arranged by Wilbur Ross, now Trump's Commerce Secretary, who at the time, was the largest shareholder in a Cypress bank largely controlled by Russian money.
Googling "Trump and Bayrock," or "Trump and Sater," or any of the other names listed here will turn up countless articles about all of this---and more. "The Dubious Friends of Donald Trump" brings it all to life-—the graphic connection between tainted money and its laundering through complex offshore entities.
Two months ago, USA Today summarized Trump's dirty money connections this way:
"The president and his companies have been linked to at least 10 wealthy former Soviet businessmen with alleged ties to criminal organizations or money laundering.
"Among them:
"• A member of the firm that developed the Trump SoHo Hotel in New York is a twice-convicted felon who spent a year in prison for stabbing a man and later scouted for Trump investments in Russia.
"• An investor in the SoHo project was accused by Belgian authorities in 2011 in a $55 million money-laundering scheme.
"• Three owners of Trump condos in Florida and Manhattan were accused in federal indictments of belonging to a Russian-American organized crime group and working for a major international crime boss based in Russia.
"• A former mayor from Kazakhstan was accused in a federal lawsuit filed in Los Angeles in 2014 of hiding millions of dollars looted from his city, some of which was spent on three Trump SoHo units.
"• A Ukrainian owner of two Trump condos in Florida was indicted in a money-laundering scheme involving a former prime minister of Ukraine.
The FBI and other intelligence agencies---U.S. and foreign---obviously are onto all of this. It's reasonable to assume there's a lot more that hasn't been disclosed. Law enforcement has access to bank account information, court filings and even tax returns. Internationally, there's much cooperation through security agencies where Trump's company operates.
If Trump was transparent with his tax history, if he had separated himself from his business dealings, if he hadn't placed his daughter and son-in-law astride both the family business and potential conflicts with taxpayer money and public resources, we might consider what's past as done and move on. But none of this has happened. Until proven otherwise, concern that U.S. interests are at risk of compromised decision-making, both at home and in foreign affairs, is genuine and can't be ignored.
The situation begs for a full, independent, no strings attached investigation. If Trump has nothing to fear or hide, he should welcome it. His name is his brand. His brand, he claims, is his major asset. Only a clean bill of health rendered after a fair and thorough investigation will protect it.
(Joe Rothstein is a regular columnist for USPoliticstoday.com and author of the acclaimed political thriller "The Latina President and the Conspiracy to Destroy Her." Mr. Rothstein can be contacted at joe@einnews.com).
---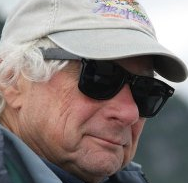 Joe Rothstein is editor of U.S. Politics Today. His career in politics spans 35 years, as a strategist and media producer in more than 200 campaigns for political office and for many political causes. He was a pioneer in professional political consulting and one of the founding members of the American Association of Political Consultants. During his career Mr. Rothstein has served as editor of the Pulitzer Prize-winning Anchorage Daily News and adjunct professor at George Washington University's Graduate School of Political Management. He has a master's degree in journalism from UCLA.
---