TrumpCare Based on Medicare-for-All?
January 16, 2017


By Joe Rothstein

In my novel, "The Latina President and The Conspiracy to Destroy Her," I imagine U.S. President Isabel Aragon Tennyson, a Democrat, stealthily engineering a Medicare-for-all amendment into a Republican plan to repeal the Affordable Care Act. In one quick stroke, the Republicans get the repeal they've long wanted, but are stunned to find that the replacement is actually a single payer plan.

Could President Donald Trump turn out to be a reality version of my fictional President Tennyson?

I offer this possibility as a backdoor shameless commercial to encourage you to buy my book (It's available as an E-book and paperback on Amazon) and as a logical extension of Trump's description of the replacement plan he says he's developing.

Here are some comments from Trump's weekend interview with the Washington Post: "We're going to have insurance for everybody. There was a philosophy in some circles that if you can't pay for it you can't get it. That's not going to happen with us." People covered under the law "can expect to have great health care. It will be in much simplified form. Much less expensive and much better."

True, Trump also is quoted in this interview as saying, "I don't want single payer. What I do want is to take care of people."

Thanks to the Republicans' never-ending fixation on repealing Obamacare we know quite a bit about health insurance economics and alternatives. Among those truths is that achieving health insurance for everyone, including the high-cost ill, requires more expensive premiums, not cheaper ones. Unless, that is, private insurance profit is removed from the equation.

Trump may say "I don't want single payer," but that's easily fixed. Just don't call it "single payer." Let's call it TrumpCare.

Medicare, the system that for decades has served everyone aged 65 and older, is delivered through the private medical industry---the doctors, the specialists, the hospitals, the device manufacturers and others. The federal government sets what it considers reasonable rates for these services, pays about 80 percent of the costs, and handles the bill-paying paperwork. For those who can afford additional private insurance to cover the 20 percent gap and enhanced coverage, there are plenty of private plan alternatives.

One way or another, the federal government already pays about 65 per cent of the nation's health care costs. Health policy experts estimate that that percentage would increase to 80 per cent with Medicare for all.

What would be the public's reaction to a TrumpCare plan based on Medicare for all? Here are some striking numbers from a recent University of Maryland survey that give us a clue. Respondents favored repeal of the Affordable Care Act by a 59-31% margin. Then the survey asked the same respondents whether they favored or opposed repeal of some specific features of the act. Take a look:

Prohibiting insurance companies from denying coverage to patients with pre-existing conditions
Repeal: 19%
Left as it is: 66%

Allowing adults under the age of 26 to stay on their parents' health insurance plan
Repeal: 23%
Left as it is: 63%

Requiring businesses and companies with more the 50 full time employees to offer health insurance coverage
Repeal: 27%
Left as it is: 55%

Making subsidies for health insurance available to low-income Americans
Repeal: 25%
Left as it is: 56%

Requiring health insurance companies to cover prescription birth control
Repeal: 30%
Left as it is: 53%

Providing funding to states to expand Medicaid programs for low-income Americans
Repeal: 26%
Left as it is: 56%

Removing lifetime and annual limits on the amount of money health insurance companies can pay out for an individuals' care
Repeal: 32%
Left as it is: 46%

While relentless Republican-bashing of the ACA through the years has destroyed the image of the act itself the benefits the program provides remain popular. If Trump offers a TrumpCare plan based on the extension of Medicare he will be on very solid ground with the general public.

But what of the Republicans in Congress? Medicare expansion is hardly what they had in mind the 60 or so times they voted to repeal the ACA. They would hate the idea of expanding a major government program such as Medicare. Yet they haven't agreed upon a replacement and each day the pressure builds, from the public and their own White House, not to erase Obamacare without protecting its benefits.

Medicare premiums likely would increase somewhat under this plan, but increases would be offset for the business community, which no longer would need to provide expensive employee health coverage, and for the self-employed and those working in smaller businesses who now are hard-pressed to find reasonably-priced, adequate insurance plans.

A Medicare-for-all plan would reprise the bitter battle President Clinton fought with the health insurance industry in 1993-94. While the industry constantly complains about lack of health insurance profits, health insurance companies are quick to go to war when they believe these markets are threatened.

Donald Trump already has taken on the prescription drug industry for its high prices. He likely would see the chance to launch a tweet-storm against one of the least popular industries in America as a golden opportunity, not a problem. Members of Congress, on the other hand, would be squeezed hard by threats of industry retribution on the one hand and popular opinion on the other. To get the TrumpCare plan as I've described it to his desk Trump would have to align with Democrats in Congress, most of whom would relish the prospect of extending Medicare-for-all.

This may be fantasy, but for an incoming President Trump who has disastrous popularity poll numbers, and who has pledged to move fast and with uncomplicated reforms, a Medicare extension plan makes a world of practical political sense.

And, as a byproduct, it would make outstandingly good public policy. I should know. I've already previewed it with President Isabel Aragon Tennyson in my novel, "The Latina President."

(Joe Rothstein can be contacted at joe@einnews.com)
---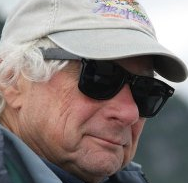 Joe Rothstein is editor of U.S. Politics Today. His career in politics spans 35 years, as a strategist and media producer in more than 200 campaigns for political office and for many political causes. He was a pioneer in professional political consulting and one of the founding members of the American Association of Political Consultants. During his career Mr. Rothstein has served as editor of the Pulitzer Prize-winning Anchorage Daily News and adjunct professor at George Washington University's Graduate School of Political Management. He has a master's degree in journalism from UCLA.
---