How Long Will Congressional Republicans Defend Trump Before They Trade Him In for Pence?
January 9, 2017

By Joe Rothstein

Vladimir Putin campaigned--unsuccessfully--for regime change in the Ukraine, Estonia, Poland and other former satellite countries. What irony that when he finally scored a regime change success it would be the United States.

How much of a coup is this for Putin?

One can only imagine the bulging files of potentially damaging information Putin's intelligence agencies are storing about the new U.S. President. Videos from hidden cameras in hotel rooms in Russia and elsewhere where Trump and his family have traveled. Secret recordings of business negotiations. Bugged dinner conversations. Incriminating stuff in and of itself or easily edited to appear so. All that and ongoing financial entanglements that could go badly for the Trump business organization with just a few well-placed Kremlin phone calls or strokes of a pen.

For someone as careless with words, so quick to brag about sexual exploits, and so close to the edge with his business deals, Trump has been very low hanging fruit for Russian intelligence.

The CIA, NSA and many other U.S covert agencies must be aware of all this. If they've been skillful enough to report with confidence the intercept of Russian hacking to influence the U.S. election, they certainly know a lot about what Russian intelligence has on our new president.

Do I know for a fact the Russians have such information? Of course not. But it doesn't take a deep dive into the power politics of the Putin era to see how tough he plays. Putin's version of the "Art of The Deal" includes real and faked evidence against his political and economic opponents, along with confiscation of their assets and prison time; bullying threats, intimidation and military action against sovereign nations on Russia's borders; the indiscriminate bombing of Syrian civilians to secure political advantage in the Middle East.

This is not a man who would overlook the many opportunities to win "cooperation" from a major U.S. political and economic figure such as Donald Trump.

Putin is a cunning and ruthless adversary. But for all his smarts, here is something Putin may not understand.

Donald Trump becomes U.S. president standing on very thin ice. Putin may find Donald Trump appealing, but few Republican members of the U.S. House or Senate share Putin's enthusiasm. It might be more accurate to say that Trump scares them silly. They are astonished that he won. They are averse to many of the promises he made to win. And while they appreciate the fact that his winning makes possible many long-time goals on the Republican agenda, Trump injects a wild card into the political equation that could easily endanger the political careers of every Republican called upon to defend him.

Along with overlooking Russia's attempt to disrupt the U.S. election, Congress is being asked to confirm many members of the Trump cabinet without serious vetting of conflicts of interest. As good soldiers, Republicans are likely to defend the indefensible in the confirmation process. But what happens if months down the road one or more of these unvetted appointments blows up in scandal? With all the billionaires Trump has appointed, the collision of personal economics and public policy is almost inevitable.

Russia. Conflicts of interest. What else? Trumpland is a ticking time bomb of potential political problems congressional Republicans will constantly fear and regularly will be called upon to defuse. How much tolerance will Republican members have for all of this when waiting in the wings is Vice President Mike Pence, a former colleague who shares Republican conservative views without the political risks inherent in Trump's political ignorance and volatility.

How long will it be before the idea of trading in Trump for Pence takes hold among Republican legislators who fear for loss of control in the 2018 election? How many conflict of interest scandals? How big an economic slide or stock market decline? How much negative pounding from a hostile media? How much popular protest stirred up by newly energized Democratic Party and cause-related activism? How much Trump voter unrest that coal and steel jobs have not come back?

What issues would cause Trump to be impeached by a Republican Congress? Republican leaders and those on the intelligence committees likely know a lot already about questionable Trump-Russia connections. Enough to build a case whenever polls show it to be politically necessary. After a few months in office undoubtedly there be other causes, foreign or domestic, or related to the misuse of presidential authority. During his campaign Trump promised to ignore a wide range of laws and ignore Constitutional protections. If he tries to act on those promises, who will rein him in?

If he's to be reined in at all it would have to be the Republican majority in Congress, whose members mostly did not support Trump for president. Would the Republican Party as a whole object to trading in Trump for Pence? This is a party Trump, with no Republican roots, hi-jacked from the likes of Bush, Rubio, Kasich, Cruz, Romney, McCain, Palin, Walker, the Kochs, most Republican editorialists, Republican corporate leaders, and many of the party's most influential think tanks and campaign contributors. There's a legion of normally Republican faithful eager to tell Trump "you're fired."

A man who enters office with only 46 percent popular support, and who spends his time frivolously tweeting about the Celebrity Apprentice TV ratings, and continues to trash talk at whim, is more of a problem for Republicans to solve than a leader for them to follow.

In helping Donald Trump become president, Vladimir Putin got his wish. But the United States is not a nation easily squeezed into an authoritarian straight jacket the way Putin has transformed Russia. A more skilled Trump would realize the importance of consolidating power quickly. The @realtrump doesn't, and most likely doesn't appreciate how thin the ice is under his White House Oval Room desk.

The year 2016 was a political year like few others in U.S. history. The year 2017 could well be its equal.

(Joe Rothstein can be contacted at joe@einnews.com)

Joe Rothstein's political thriller, "The Latina President....and The Conspiracy to Destroy Her," recently was honored by by the Southern California, New England and London Book Festivals. The Latina President is available on Amazon and on the Barnes and Noble web site.
---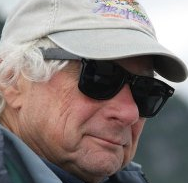 Joe Rothstein is editor of U.S. Politics Today. His career in politics spans 35 years, as a strategist and media producer in more than 200 campaigns for political office and for many political causes. He was a pioneer in professional political consulting and one of the founding members of the American Association of Political Consultants. During his career Mr. Rothstein has served as editor of the Pulitzer Prize-winning Anchorage Daily News and adjunct professor at George Washington University's Graduate School of Political Management. He has a master's degree in journalism from UCLA.
---