Mobilizing for Two Years of Intense Political Warfare
January 3, 2017


By Joe Rothstein

Barack Obama won the presidency offering hope and change. Hope for more opportunities for all. Change for the better. Rush Limbaugh summed up a different interpretation of hope, expressed simply as "I hope he fails."

Mitch McConnell & Co. became the torch bearers of Limbaugh's hope. They set up roadblocks to positive change and did all they could to discourage optimism. The fact that the country was shredding hundreds of thousands of jobs each month and we were spiraling into a 1930s type Depression was of little consequence. It was power politics at its worst.

Now it's time for Democrats to adopt the McConnell strategy: to make sure that Donald Trump and the Republican Congress fail, but to do it in a way that is politics at its best: Using the levers of democracy to save democracy, to fight financial corruption, to restore the public's faith in government FOR the people, and to protect the nation from one-man, one-party authoritarian rule.

There's no way to sugar coat this. Donald Trump represents an existential threat to the future of the United States as we know it. What else would you call a soon-to-be-president who finds much to like in Vladimir Putin, and who most likely won election with that vile autocrat's cyber hacking? What else would you call a soon-to-be-president who continues to show obvious ignorance and disregard for constitutional rights and ethical financial behavior?

Trump's anointed "chief strategist," Stephen Bannon, is on record declaring "Lenin wanted to destroy the state, and that's my goal, too. I want to bring everything crashing down, and destroy all of today's establishment."

How can anyone assess the Bannon-Trump relationship with anything less than dread for where it goes once they have the levers of White House power? How can anyone be sanguine about the opportunities for third-world type corruption managed under the smothering non-disclosure blanket of Trump's business interests and those of the billionaire class that's graduated into cabinet positions?

Larry Kudlow, the non-economist touted as the leading candidate to head Trump's Council of Economic Advisors, told Vanity Fair just a few weeks ago, "Why shouldn't the President surround himself with successful people? Wealthy folks have no need to steal or engage in corruption."

Yes, Larry, it must have been the $10 an hour clerks who brought down the economy, picked the pockets of millions of mortgage holders, hid all that stolen money in off shore accounts, and ran those Ponzi schemes.

As we head into the unknown, with Trump as president and Republicans controlling Congress, no one should expect 2017 to be a year of respectful debate among competing interests. Newt Gingrich, in a post-election TV interview, crowed that those on the political left are "facing the end of their way of life."

To grab the reins of power, Republicans shamelessly gerrymandered congressional and legislative districts, suppressed votes, and Trump lied without a hint of apology or remorse. Don't expect them to be less ruthless now that they've won.

How to fight back?

Start with action groups in every community in America. See to it that every comment, every committee action, every vote that's harmful to people in the community, whether from the state legislature or Congress, gets maximum attention. The Republican agenda to repeal the new health care act, cut taxes for the wealthy, gut Medicare and Medicare, repeal regulations protecting workers, consumers and the environment---all should engender a furious backlash. It will, if the mechanism for stoking it through pipelines to the public are in place.

And that anger should translate into unrelenting public protests—at city council and school board meetings, legislatures, Congress. Shoe leather type protests. Sign carrying type protests. Yes, 1960s type protests.

An army of legal talent needs to be recruited to tie up adverse actions in court. Republicans have not been shy about taking the Obama administration to court over regulations, acts of Congress, executive decisions. Unless and until Trump appoints enough judges, the courts remain a major line of defense for sane government and ethical behavior.

Finally, and equally important, Democrats in Congress must recognize that the next two years will be years of winner-take-all political warfare, not a time for political healing.

If Trump and the Republican congressional leadership had been interested in playing fair they would have acknowledged that 55% of those who voted did not vote for Trump. If public opinion mattered to Republicans, the next two years would be years of accommodation among competing interests, not a brutal show of force by those in charge. But Trump's appointments to top administrative jobs, and the evolving congressional agenda, both display iron fists rather than hands across the aisle.

Believe what you're seeing, Democrats in Congress. They are out to kill you politically and to kill everything you stand for. Put on your toughest armor, while millions of those who support you stock up on comfortable shoes and megaphones.

It's not going to be fun, or pretty, or safe. But to protect the country and the way of life most Americans care about, there's no other choice.

(Joe Rothstein can be contacted at joe@einnews.com)

Joe Rothstein's novel, "The Latina President...and The Conspiracy to Destroy Her," has been honored at the Southern California, New England and London Book Festivals. It's now available on Amazon.
---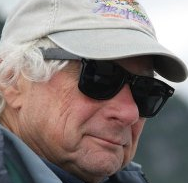 Joe Rothstein is editor of U.S. Politics Today. His career in politics spans 35 years, as a strategist and media producer in more than 200 campaigns for political office and for many political causes. He was a pioneer in professional political consulting and one of the founding members of the American Association of Political Consultants. During his career Mr. Rothstein has served as editor of the Pulitzer Prize-winning Anchorage Daily News and adjunct professor at George Washington University's Graduate School of Political Management. He has a master's degree in journalism from UCLA.
---