President Obama Channels Larry The Cable Guy
February 13, 2013


By Joe Rothstein
Editor, EINNEWS.com

Fifty-three percent of those Americans who voted in November were women--a formidable, and lately, a decisive voting bloc. Yet, there has never been a woman President of the United States, or even a woman presidential nominee.

The Statue of Liberty welcomed waves of immigrants from eastern and southern Europe in the late 19th and early 20th centuries. Millions of them. An immigration the nation continues to celebrate. Yet, no one of that heritage has ever been President of the United States.

There have been no Lutheran presidents, no Asian presidents, no Jewish presidents, no presidents who can trace ancestry to the Nordic countries, no Hispanics. Despite the fact that a quarter of the U.S. population is Catholic, of 44 Presidents, only one has been a Catholic.

While many minorities have struggled to gain equal footing in the U.S., only African-Americans were legally slaves, property of "owners," no different than cattle for ranchers or other farm breeding stock. No minority has struggled so long, or endured the same degree of violent resistance on the road to equality as black Americans.

Despite that history, it wasn't a woman, or a Lutheran, or a person of Swedish or Italian extraction who spoke to the nation as its President last night. It was an African-American. An African-American twice elected by a majority of voters.

The night before the State of the Union speech I watched Steven Spielberg's movie, Lincoln. Movies, of course, are make-believe. The principals are actors. The words are script. But Spielberg's Lincoln, the movie, had the scent of reality, conforming closely with historical memory and scholarship.

Spielberg's Lincoln took place in a time, not that long ago, when a black person's legal rights were secured only because Lincoln demanded it. And no matter the price or the means, it got done, barely, by the scant margin of two congressional votes.

As I watched and listened to President Obama on Tuesday I kept resurrecting the Lincoln of Monday. Now a black man from Illinois stood where Lincoln once stood, addressing a mostly white Congress, framing a speech around middle class economic progress and democratic values. And what was the President's core message to this Congress?

"Git-R-Done!"

Yes. This black President channeled Larry the Cable Guy, a stereotypical comic redneck with a thick Southern accent for whom no challenge seems too difficult and who is nothing but impatient with lack of results. "Git-R-Done" is the Cable Guy's message. In his TV series, "Only In America," Larry (created and performed by comedian Daniel Lawrence Whitney), gets it done, whether making moonshine or wrestling alligators.

President Obama's message to Congress is little different than Larry's.

"We can get this done," said the President, after laying out his road map for tax reform.

"We can get that done." said the President, after describing measures to reignite U.S. manufacturing.

"We can get this done," said the President, calling for major repairs to U.S. bridges, schools and other critical infrastructure.

"Take a vote and send me that bill," said the President, urging action on a measure to unblock home mortgage lending.

"Now's the time to get it done," the President kept repeating about the need to reform immigration laws.

And so on.

The President's sleeves were not rolled up, flaunting biceps, like Larry the Cable Guy's. He wasn't wearing a baseball cap, as Larry always does. The skin color was different, the hair much closer cropped, the accent far removed, the antecedents a vast chasm of background apart.

But the message was pure Larry. "Git-R-done."

A determined "Git-R-done." A determination such as Americans had seldom, if ever, seen from this President. A steely intent to storm and overcome the barricades of resistance to governing.

"They deserve a vote," the President chanted when he asked for gun control measures. He was pointing to families of gun victims in the gallery, but the message applied to all the people of the U.S. who have been frustrated by gridlock in Washington on all the matters that the President touched on in his State of the Union address, and more.

"They deserve a vote," the President demanded.

It could have been Daniel Day Lewis playing Lincoln, ending slavery despite what seemed insurmountable obstacles. A refusal to be denied, to take "no," or "not now," as results.

The re-run of Obama, the President, promises to be much more forceful and determined than the original. And, in a tip of the baseball cap to Larry the Cable Guy, maybe even more entertaining--and successful.

(Joe Rothstein can be contacted at joe@einnews.com).

---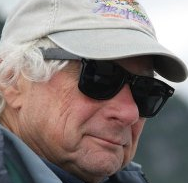 Joe Rothstein is editor of U.S. Politics Today. His career in politics spans 35 years, as a strategist and media producer in more than 200 campaigns for political office and for many political causes. He was a pioneer in professional political consulting and one of the founding members of the American Association of Political Consultants. During his career Mr. Rothstein has served as editor of the Pulitzer Prize-winning Anchorage Daily News and adjunct professor at George Washington University's Graduate School of Political Management. He has a master's degree in journalism from UCLA.
---